Dear Friends,
Hello! Thank you for subscribing to my E-newsletter. I am honored to serve the 23rd Senate District and look forward to working with you toward building a better future for Pennsylvania!
This E-newsletter serves to keep you updated on what is happening throughout Bradford, Lycoming, Sullivan, Tioga and Union counties and what I am doing as your state senator in Harrisburg. I hope that you will find this E-newsletter helpful, and if you have any questions or concerns, please feel free to contact me.
Gene Yaw
State Senator
www.SenatorGeneYaw.com

*Click here to find the latest information on coronavirus from the Pennsylvania Department of Health and the Centers for Disease Control and Prevention.
Around the 23rd Senate District….
Fifty-Two Local Businesses Across Five-County Region to Receive COVID Relief Funding… Businesses in Bradford (11), Lycoming (25), Sullivan (5), Susquehanna (*23District-Only) (2) and Union (9) counties were awarded grants that ranged from $5,000-$40,000 though the COVID-19 Relief Program. [Read More]
Union County farm added to Pennsylvania Farmland Preservation Program today…The 124-acre crop farm, owned by Elvin E. and Molly B. Stoltzfus, is located in Kelly Township and will be added to the list of 5,781 Pennsylvania farms permanently preserved for agricultural production.
Bradford County Conservation District Receives $65,574 Nonpoint Source Management Grant… [Read More]
Lycoming County, Susquehanna River Watershed to Benefit from Waterways Protection Funding… [Read More]
35th Annual Sullivan County Health Fair (Drive-Thru)…will be held Saturday, October 17th – 9AM-12PM – Sullivan County Fairgrounds, Forksville. Free seasonal flu vaccines for adults and children 6 months and older. Email sullivancountyhealthfair@gmail.com for more information.
PennDOT Driver License, Photo Centers Closed for Columbus Day Holiday … PennDOT announced that all driver license and photo centers will be closed Saturday, October 10, through Monday, October 12, in observance of Columbus Day. Customers may still obtain a variety of driver and vehicle products and services, including all forms, publications and driver training manuals, online through PennDOT's Driver and Vehicle Services website, www.dmv.pa.gov.
Area Legislators Provide Legislative Update in Susquehanna County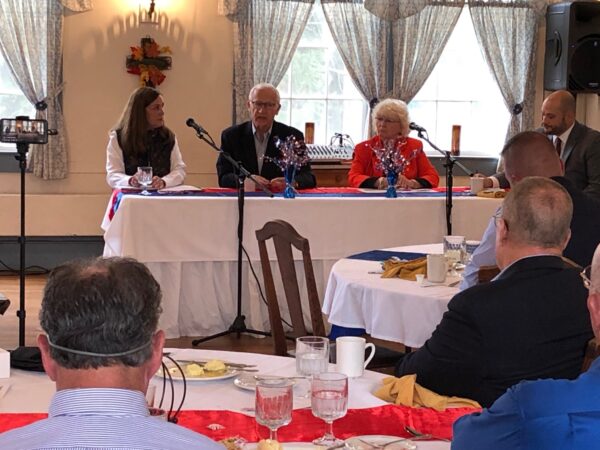 On Friday, October 2nd, I joined Senator Lisa Baker (R-23), Representative Tina Pickett (R-110) and Representative Jonathan Fritz (R-111) for a legislative update during the Montrose Area Chamber of Commerce and Endless Mountains Business Association 2020 Legislative Luncheon at the Montrose Bible Conference.
During the briefing, I discussed the Governor's unilateral action and recent vetoes on a number of bills including school sports, expanding restaurant operations, and an effort to prohibit joining the Regional Greenhouse Gas Initiative (RGGI). [Read More]
In Other News….
PA Senate leaders repeated concerns about Governor Wolf's go-it-alone approach to most aspects of the state's response to the pandemic and called for greater clarity and local decision-making power for schools and communities who are best positioned to protect their students and neighbors.
Health Care Accessibility Measures Pass Senate…This week, I voted for two measures improving the availability of health care services and coverage throughout Pennsylvania. Senate Bill 890 would ensure employees with disabilities can continue to work without the risk of losing access to health care benefits; Senate Bill 1268 would provide new opportunities for Pennsylvanians to continue a career in the medical field by allowing temporary nurse aides hired during the COVID-19 emergency declaration to receive certification to continue working.
Legislation was approved in the Senate this week to strengthen penalties for the heinous crime of child pornography…. I supported Senate Bill 1075 that will create a new task force to help prevent children from being victimized in the future. The legislation would boost penalties in all cases of child pornography in which the child is under the age of 10 or prepubescent. In addition, the bill would create a special Task Force to review all laws pertaining to child pornography and make recommendations to improve the investigation and prosecution of offenders to ensure the perpetrators of these crimes are held accountable for the tremendous damages they cause.
'Glaring Inconsistencies' in Governor's Business Waiver System Impacting Area Businesses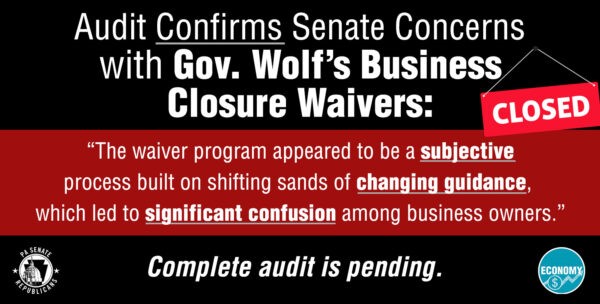 At the request of state lawmakers and business owners throughout the state, the Pennsylvania Department of the Auditor General is taking a closer look at Governor Wolf's deeply flawed waiver system that determined which businesses were forced to remain shuttered during the COVID-19 pandemic. Although the audit is still ongoing, a status update that was released by the Auditor General this week detailed glaring inconsistencies in the way the waiver system was handled.
The update also noted that the waiver system was "remarkably subjective," and in many cases the approval or denial of applications depended heavily on the individual reviewing the application. Approximately 500 businesses received responses that were later reversed by the Department of Community and Economic Development, including 171 waiver applicants that were initially denied and forced to remain closed longer than necessary before finally receiving approval to reopen.
I will provide further updates on this issue when the audit is completed….
Expanded Indoor and Outdoor Gathering Limits Announced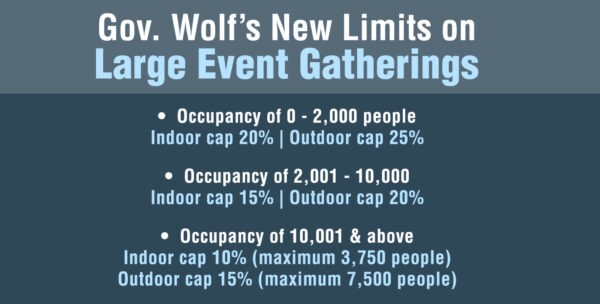 A federal judge ruled last month that the Wolf Administration's limits on gatherings were unconstitutional. However, a federal court ruled last week that the limitations should remain in place while the governor pursues an appeal.
While these issues are resolved in court, the Wolf Administration updated its guidance on gatherings this week to allow for greater attendance at events that are held at larger venues. The new gathering limits are based on the occupancy limits of the venue.
For venues with an occupancy limit of up to 2,000 people, gatherings would be limited to 20 percent of indoor occupancy or 25 percent of outdoor occupancy.
For venues with occupancy between 2,001 and 10,000, gatherings would be limited to 15 percent of occupancy indoors or 20 percent of occupancy outdoors.
For venues with occupancy of more than 10,000, the indoor cap would be 10 percent (maximum 3,750) and the outdoor cap would be 15 percent (maximum 7,500).
Venues that do not have an official occupancy limit would be capped at 25 people per 1,000 square feet.
The Wolf Administration's new guidance still requires attendees to wear a mask and practice social distancing. The U.S. Centers for Disease Control and Prevention offers guidance to help event planners take the proper precautions to limit the spread of COVID-19.
Senate Passes Comprehensive Information Technology Overhaul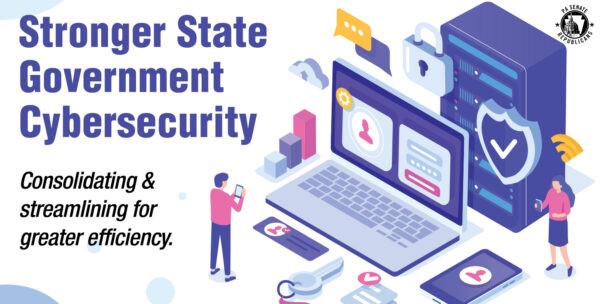 Information technology (IT) plays a critical role in the operations of all state agencies, and inadequate IT systems in state government can impact citizens in a variety of ways. The Senate approved legislation this week that would strengthen, secure and consolidate state government IT systems while saving taxpayer dollars.
The legislation would seek to correct issues like the 1950s computer programming language still utilized by the Department of Labor and Industry, the vulnerability of state IT systems to cyberattacks and data breaches, and the lack of a strategic plan for future updates to keep pace with the demands of Pennsylvanians. The bill is estimated to save taxpayers as much as $32 million annually.
Grants Available for Environmental Education Projects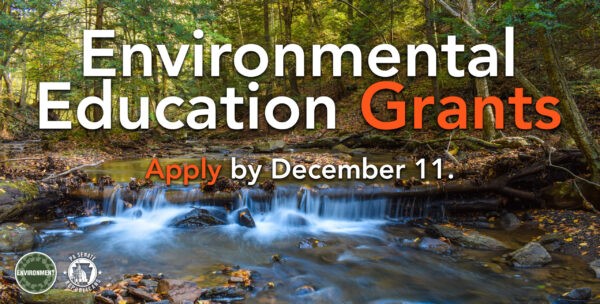 Youth and adult environmental education projects may be eligible for grant funding from the state Department of Environmental Protection. Schools, colleges, nonprofit community and environmental organizations, county conservation districts and businesses are encouraged to apply for Environmental Education Grants by December 11.
A special webinar is scheduled for October 14 from 1 p.m. until 2:30 p.m. to provide additional information on how to apply. Registration is required. Registration and more details are available here.