Dear Friends,
Hello! Thank you for subscribing to my E-newsletter. I am honored to serve the 23rd Senate District and look forward to working with you toward building a better future for Pennsylvania!
This E-newsletter serves to keep you updated on what is happening throughout Bradford, Lycoming, Sullivan, Tioga and Union counties and what I am doing as your state senator in Harrisburg. I hope that you will find this E-newsletter helpful, and if you have any questions or concerns, please feel free to contact me.
Gene Yaw
State Senator
www.SenatorGeneYaw.com

*Click here to find the latest information on coronavirus from the Pennsylvania Department of Health and the Centers for Disease Control and Prevention.
Statement on the 2020 Election
***JUST IN***: Trump campaign files suit in federal court in Williamsport to block Pennsylvania election result (via Williamsport Sun Gazette)
Many of you have contacted my office regarding the 2020 election. Pennsylvanians, and all Americans, deserve to have full transparency in this election, and confidence in our election process.
The Senate Republican Caucus has joined with the Pennsylvania GOP in litigation that is currently before the United States Supreme Court regarding the mail in ballot deadline extension. On two occasions, the PA Supreme Court refused our request to block the extension for receiving ballots (not including military ballots) up until November 6th. This is in clear violation of our state's Election Code. Additionally, after the Supreme Court ruling, Governor Wolf made it clear he would veto any bill to provide enhanced election security.
To add insult to injury, the Pennsylvania Secretary of State has fundamentally altered the manner in which Pennsylvania's election was conducted. The constantly changing guidance she had delivered to counties not only directly contradicted PA's Election Code language she is sworn to uphold, but also conflicted with her own litigation statements and decisions of both the Pennsylvania Supreme Court and the United States Supreme Court. Members of our Caucus have asked for her resignation.
The vote count in PA continues. If the final number is within a half of one percent then there is an automatic recount required by PA law. Presently, the margin is a little outside a half of one percent but there are a lot of provisional ballots yet to be counted. Even if the margin does not require a recount, the Trump campaign is entitled to ask for one.
There is no question that the Legislature, along with the Governor, needs to take additional concrete steps to safeguard the integrity of our elections to prevent the kind of abuses that have been reported to us. We WILL reform the process to make sure what happened in 2020 never happens again.
Honoring Our Nation's Heroes on Veterans Day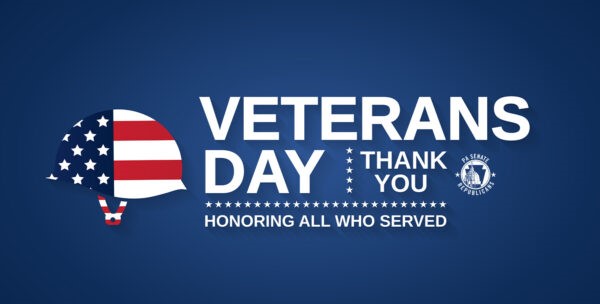 Communities throughout the country will join together tomorrow, November 11th, to celebrate Veterans Day in honor of the service and sacrifice of the men and women who have served our nation in the military.
Our nation has paid a dear price to protect freedom and make the world a safer place. We must never forget the individual and collective sacrifices that our men and women in uniform have endured to protect the principles and values that make America the greatest country in the world.
Temporary Assistance Program Available to Area Veterans
Program Provides Financial Relief to Veterans, Beneficiaries Facing Unexpected Hardships
For many veterans around the 23rd Senatorial District, the last few months have been very difficult due to the COVID-19 pandemic. Veterans who face an unexpected financial need for the necessities of life such as food, shelter, fuel and clothing can find help through the Department of Military and Veterans Affairs' (DMVA) Veterans Temporary Assistance (VTA) program.
Eligible veterans or their beneficiaries can qualify for an amount not to exceed $1,600 in a 12-month period. Eligibility requirements include: a person who served in the Armed Forces of the United States (discharged under honorable conditions), died in service or was killed in action, or suffered a service-connected disability.
To apply, contact the County Veterans Affairs Director in the county you reside.
For more information about the program's criteria, eligibility and needed documentation, go to Veterans Temporary Assistance. Learn more about the DMVA by visiting them online at www.dmva.pa.gov.
For more state-related news and information, visit Senator Yaw's website at www.SenatorGeneYaw.com or on Facebook and Twitter.
New Virtual Financial Series, November Consumer Financial Protection Events Announced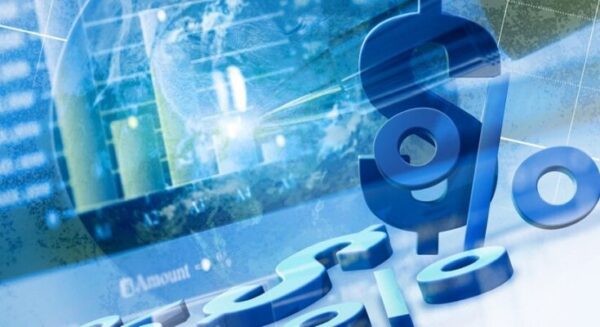 I would like to remind area residents of a new virtual financial series designed to help consumers become more informed about their finances.
The weekly series, titled "Midweek Money Matters," is hosted by the Pennsylvania Department of Banking and Securities (DoBS) and will address a variety of financial topics related to saving and investing, budgeting, avoiding scams, and practical ways to navigate financial decisions.
To read more, click here.
PennDOT Driver License, Photo Centers Closed for Veterans Day
PennDOT has announced that all driver license and photo centers, including the Riverfront Office Center in Harrisburg, will be closed Wednesday, November 11, in observance of Veterans Day.
Customers may still obtain a variety of driver and vehicle products and services, including all forms, publications and driver training manuals, online through PennDOT's Driver and Vehicle Services website, www.dmv.pa.gov.
Driver and vehicle online services are available 24 hours a day, seven days a week and include driver's license, photo ID and vehicle registration renewals; driver-history services; changes of address; driver license and vehicle registration restoration letters; ability to pay driver license or vehicle insurance restoration fee; driver license and photo ID duplicates; and driver exam scheduling. There are no additional fees for using online services.
A complete listing of PennDOT driver and photo license center closings in 2020 is available online.
Fall Road Trip to Benezette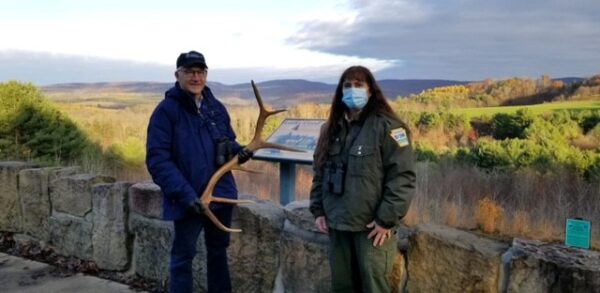 Sen. Yaw pictured with DCNR Environmental Specialist Kim Lott
I recently had the opportunity to visit Benezette in the heart of "Elk Country" for a firsthand look at these magnificent creatures. The word "elk" comes from the German "elch," the name for the European moose.
Elk were originally native to Pennsylvania and ranged statewide, with concentrations in the northcentral and Pocono Mountains, before the species was eliminated as a result of colonization and over-hunting. The wild elk that call Pennsylvania home today are the descendants of two restoration efforts arriving between 1913 and 1926 from Yellowstone Park and a preserve in Montour County.