Dear Friends,
Hello! Thank you for subscribing to my E-newsletter. I am honored to serve the 23rd Senate District and look forward to working with you toward building a better future for Pennsylvania!
This E-newsletter serves to keep you updated on what is happening throughout Bradford, Lycoming, Sullivan, Tioga and Union counties and what I am doing as your state senator in Harrisburg. I hope that you will find this E-newsletter helpful, and if you have any questions or concerns, please feel free to contact me.
Gene Yaw
State Senator
www.SenatorGeneYaw.com

December 7, 2020
Restoring Confidence in the Election Process
My Statement on Senate Resolution 410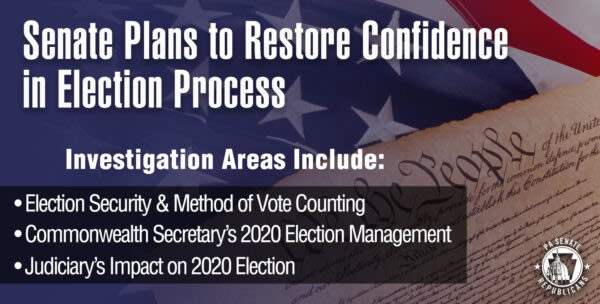 Over the past few weeks, my office has received hundreds of calls and thousands of emails from people all over the country frustrated over the outcome and security of the 2020 presidential election. Viral misinformation has spread like wildfire on YouTube and other social media outlets, and, according to many callers, radio talk show host pundits have advocated for the Pennsylvania legislature to act against our own state Constitution.
Senate and House Republicans have publicly announced that we will use our statutory power to investigate and seek answers to many of the claims made about the integrity of the 2020 election and seek to restore voter confidence. However, the recent calls to my office have claimed that the legislature could, through the passage of a simple Senate Resolution, declare the 2020 presidential election in dispute and assign a new slate of electors contrary to the winner of the popular vote in Pennsylvania. That is simply not accurate. There are reasons why passage of SR 410 would not impact the results of the 2020 election.
First, the manner in which delegates are distributed is governed by our Election Law enacted in 1937. Yes, the legislature chooses the presidential electors and in Pennsylvania the legislature has passed a law, 83 years ago, explaining the process…[Read More]
Thank You, Rep. Everett!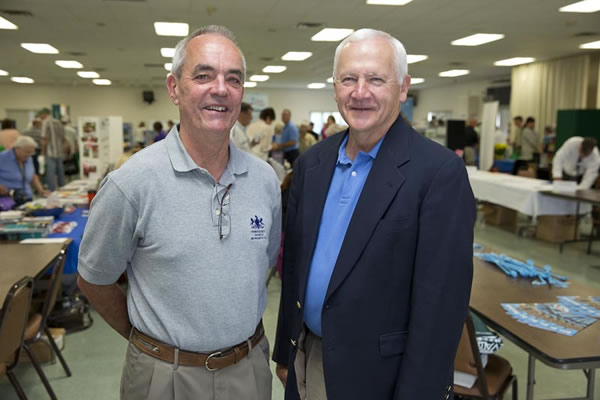 Please join me in thanking Rep. Garth Everett (R-84) for his many years of dedicated public service to our state. Garth has been a champion for northcentral Pennsylvania, beloved by the communities he served in Lycoming and Union counties and very much respected at the Capitol for the past 13 years. We have served on a number of the same Boards and Commissions over the years including the Center for Rural Pennsylvania, Chesapeake Bay Commission and the Pennsylvania College of Technology Board of Directors. I am forever grateful for his friendship, leadership and wisdom during that time. I want to wish Garth, along with his wife Sue, a happy retirement as he steps away from the legislature.
Welcome, Rep.-Elect Joe Hamm!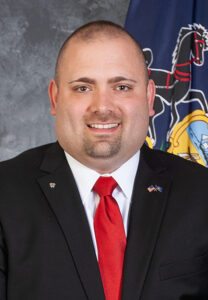 Additionally, I'd like to congratulate and welcome Rep.-Elect Joe Hamm as our newest Lycoming County elected representative. I'm looking forward to working with Joe who will officially be sworn into office in January and will serve the people of the 84th PA House District. His past experience as a township supervisor, borough manager and military veteran will serve him well as he examines the many complex issues in Harrisburg.
Rep.-Elect Hamm has announced that his district offices in Montoursville and Jersey Shore are now open to the public. His new Montoursville district office is located at 274 Broad Street. The office is open Monday-Friday from 8:30 a.m. to 4:30 p.m. and can be reached at 570-546-2084 or 570-327-2084. His Jersey Shore district office is located in Room 105 of the Tiadaghton Valley Mall, 701 Allegheny Street. This office is open Tuesdays and Thursdays from 8:30 a.m. to 4:30 p.m. and can be reached at 570-398-4476.
Rep.-Elect Hamm plans to hold office hours in Union County and will soon announce the location, dates and times. Stay tuned to his website http://www.repjoehamm.com/ for more details.
In Case You Missed It….
Urging Federal Lawmakers to Approve EPA Chesapeake Bay Program Funding… In recent correspondence to U.S. Senate and House members and staff, I urged support for $90.5 million in funding for the Environmental Protection Agency's (EPA) Chesapeake Bay Program. [Read More]
Calling on PA Attorney General to Appoint Special Prosecutor, Inspector General to Investigate Concerns with State's Election Systems. [Read More]
Governor Rejects New Protections for Schools, Businesses, Health Care Providers… As businesses, schools and health care providers continue to struggle from the fallout of the COVID-19 pandemic, many of these organizations face a new threat in the form of frivolous lawsuits related to the virus. [Read More (PMA Response)]
My Statement on Governor's Dec. 2nd Executive Action Related to Flooding…In response to Governor Wolf's recent executive action requiring the State Planning Board to develop a series of recommendations and best practices relative to land use, planning, zoning, and storm water management to address flood hazard mitigation. [Read More]
$30K in Cultural, Historical Support Grants Awarded Across Region. [Read More]
Union, Snyder Community Action Agency Awarded Funding to Alleviate Homelessness. [Read More]
Research Documents Rural Pennsylvanians' Willingness to Pay for High-Speed Broadband Internet Service…Rural Pennsylvanians' willingness to pay for broadband internet service is higher than urban residents, and urban and rural Pennsylvania residents are receiving inequitable broadband service – not only in terms of broadband speed, but also in the prices they pay for service, according to a new study published by the Center for Rural Pennsylvania. [Read More]
NOW OPEN: Encouraging Feedback, Participation on Proposed RGGI Rulemaking
Proposal Would Drive Up Utility Bills, Force the Closure of PA Power Plants, Destroy Jobs and Diminish PA's Energy Competitiveness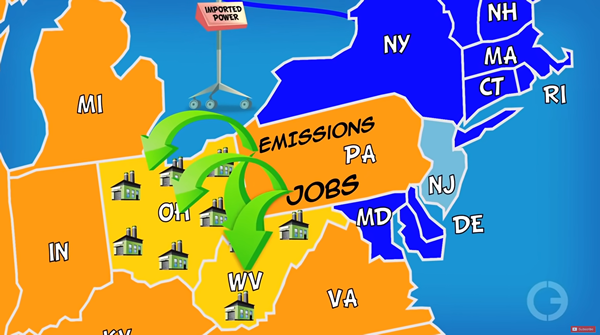 A proposed rulemaking bringing Pennsylvania into the Regional Greenhouse Gas Initiative (RGGI), a consortium of Eastern states that impose a carbon tax on electricity production and require fossil fuel generators to purchase allowances, is now open for public comment.
RGGI is being labeled as a CO2 Budget Trading Program, but it's really just another tax scheme by the Wolf Administration – a tax scheme that seeks to eliminate fossil fuels, while driving up household electricity rates. Let's be clear, without fossil fuels there is no "green" energy. [Read More]
In Other News….
Are you a PPL Electric Customer Struggling to Pay Your Bill? There are options available to you. In addition to LIHEAP assistance, PPL's 'OnTrack' payment plan offers debt forgiveness and a lower fixed monthly payment to customers who qualify. Additionally, Operation HELP is an income-eligible program to help PPL customers pay their energy bills. To learn more on PPL assistance programs, visit pplelectric.com/billhelp or call 1-800-342-5775.
Pennsylvania Farm Bureau (PFB) is aware of some independent dairy producers who shipped milk to Dean Foods receiving letters from ASK LLP, a bankruptcy law firm, last week indicating that, as part of Dean's bankruptcy case, they must pay back a portion of payment they already received for milk sold to Dean. PFB has been engaged with the Pennsylvania Milk Marketing Board (PMMB) and American Farm Bureau Federation (AFBF) on this matter. PMMB, in statements to news media, has said it does not see any legal basis for the firm to be demanding money from producers and that farmers who received the letters should not pay anything at this time. PMMB's chief legal counsel has also engaged the Pennsylvania Attorney General's Office and sent an email to ASK LLP questioning the legal basis for the letters. Should producers ultimately need to respond to the letters, PFB strongly encourages producers to consult a qualified bankruptcy attorney who will likely be able to assert a number of bankruptcy exemptions that may eliminate all or most of Dean's monetary demands.
Hemp Grower, Processor Permit Application Period Now Open for 2021… Pennsylvania's 2021 hemp program for commercial growers and processors opened Saturday, December 5th for mail-in applicants only. Online applications are expected to open in January 2021. For more information on Pennsylvania's hemp program, visit www.agriculture.pa.gov/hemp or contact the hemp program staff at 1- 223-666-2561.
PennDOT Encourages Students to Explore Transportation Funding Challenges… The Innovations Challenge program invites students in 9th through 12th grades to explore solutions to real-world transportation problems. This year's contest encourages students to submit their ideas on how to provide stable and sufficient funding to support critical transportation upgrades. The deadline to submit an entry is December 18th.
Remembering the Attack on Pearl Harbor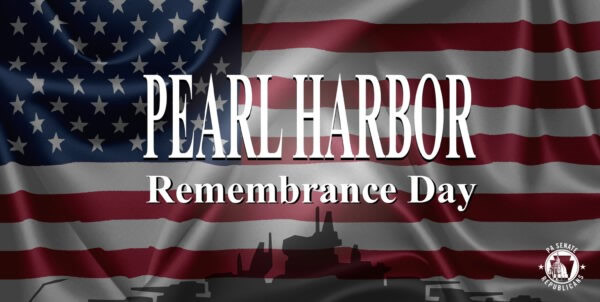 The attack on Pearl Harbor on December 7th, 1941, resulted in the deaths of more than 2,400 Americans and is widely considered one of the key turning points in World War II. Each year on December 7th, the nation pauses in reverence for those who lost their lives on that fateful day.
More details on scheduled events in observance of National Pearl Harbor Remembrance Day are available through the National Park Service.