Dear Friends,
Hello! Thank you for subscribing to my E-newsletter. I am honored to serve the 23rd Senate District and look forward to working with you toward building a better future for Pennsylvania!
This E-newsletter serves to keep you updated on what is happening throughout Bradford, Lycoming, Sullivan, Tioga and Union counties and what I am doing as your state senator in Harrisburg. I hope that you will find this E-newsletter helpful, and if you have any questions or concerns, please feel free to contact me.
Gene Yaw
State Senator
www.SenatorGeneYaw.com

December 23, 2019
Sullivan County FACT:
Laporte, the county seat, was named for John LaPorte, Surveyor General of Pennsylvania from 1845-1851.
---
Wishing you all a joyous holiday season & a prosperous and healthy New Year!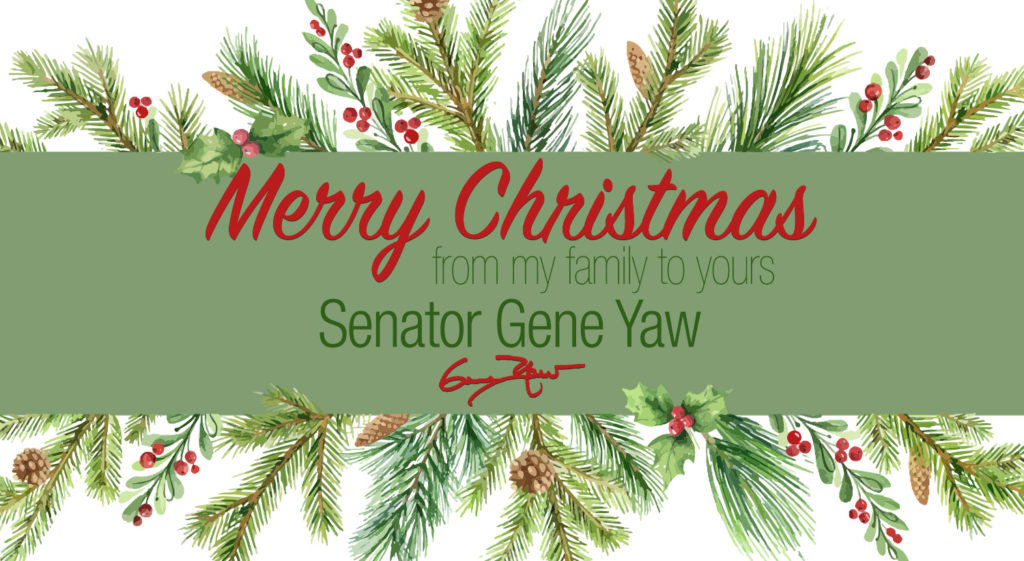 PennDOT Driver License, Photo Centers Closed for Christmas Holiday
PennDOT has announced that all driver license and photo centers, including its full-service center in Harrisburg, will be closed Wednesday, December 25, in observance of the Christmas holiday.
Customers may still obtain a variety of driver and vehicle products and services, including all forms, publications and driver training manuals, online through PennDOT's Driver and Vehicle Services website, www.dmv.pa.gov.
Job Fair and Open House Planned at PennDOT District 3-0
PennDOT, District 3-0 (Bradford | Columbia | Lycoming | Montour | Northumberland | Snyder | Sullivan | Tioga | Union counties), is hosting a job fair and open house on Tuesday, January 7, 2020 and Wednesday, January 15, 2020, from 1PM to 8PM.
Those interested in a career with PennDOT are encouraged to attend the event to learn about the various opportunities available.
Design, Construction, and Maintenance units will provide displays and demonstrations showing current projects, technology and job opportunities.
District employees will be on hand to answer any questions regarding job opportunities and assist those interested with employment applications.
Open House PennDOT Engineering District 3-0 Office
Location: 715 Jordan Avenue, Montoursville, PA 17754
Open House January 7, 2020 from 1:00 p.m. to 8:00 p.m.
Dates: January 15, 2020 from 1:00 p.m. to 8:00 p.m.
Parking: Parking is available in the District 3-0 parking lot and along Jordan Avenue.
The job fair and open house is available to persons with disabilities. Any persons requiring special accommodations are requested to contact the PennDOT District 3-0 office at 570-368-4204 prior to January 2, 2020 so that you may be accommodated.
Bradford County Officials Honored for Public Service
On Friday, Dec. 20th, I joined Bradford County residents, county employees and officials to honor three long-time public servants, Shirley Rockerfeller, District Attorney Daniel Barrett Esq. and Treasurer Rebecca Clark, who are retiring at the end of the year. Each of these individuals have served the people of Bradford County with honor and integrity. On behalf of all the members of the Pennsylvania Senate, we thank them for their dedication and service, and wish them well in their retirement!
Penn College Fall Commencement Ceremonies Held
On Saturday, I was again honored to participate in the Pennsylvania College of Technology Fall Commencement ceremonies at the Community Arts Center in downtown Williamsport.
I congratulate today's skilled Penn College grads, who are well positioned for career advancement for years to come, thanks to their hard work and dedication in pursuing #DegreesThatWork!
Stephanie A. Petrison, of Landenberg, who received a Bachelor of Science in business administration: sport and event management concentration, was the student speaker. Also addressing December's class was Ryan P. Good, assistant professor of welding, who was presented with the Veronica M. Muzic Master Teacher Award in May. A Distinguished Alumni Award was presented to 2004 business administration graduate Clint Cullison, a senior associate with Greenlee Partners.