Dear Friends,
Hello! Thank you for subscribing to my E-newsletter. I am honored to serve the 23rd Senate District and look forward to working with you toward building a better future for Pennsylvania!
This E-newsletter serves to keep you updated on what is happening throughout Bradford, Lycoming, Sullivan, Tioga and Union counties and what I am doing as your state senator in Harrisburg. I hope that you will find this E-newsletter helpful, and if you have any questions or concerns, please feel free to contact me.
Gene Yaw
State Senator
www.SenatorGeneYaw.com

May 11, 2020
Facts Not Fear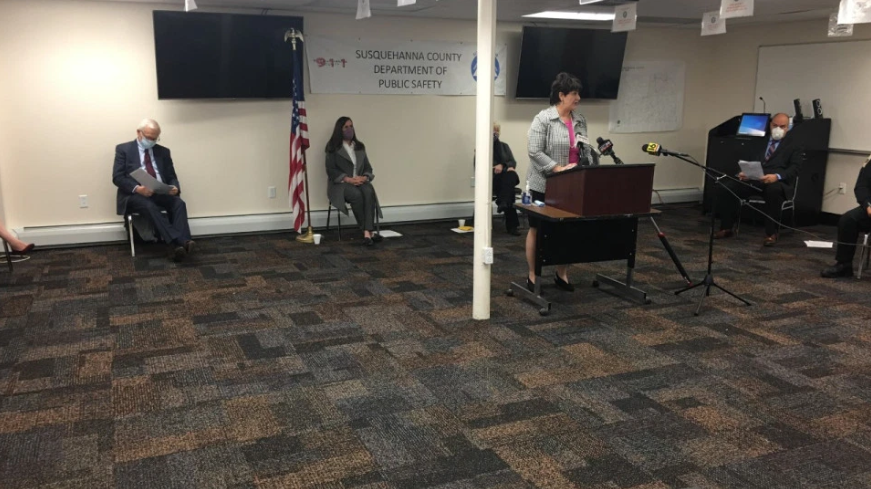 [WATCH: 05-11-2020 Press Conference]
On Monday, I joined Susquehanna County officials in again calling on Governor Tom Wolf to reopen the county by moving it to the "yellow phase" – a decision that is based on facts rather than fear. On April 29th, we sent a letter to the governor urging this action, which was disregarded by him and his Administration.
In the last two weeks, there have been zero new reported cornavirus cases in the county. I have said many times that county businesses can reopen, while also adhering to CDC & PA DOH guidelines. They are not mutually exclusive. Contact Governor Wolf and tell him you support reopening Susquehanna County.
News for you…
Senate leaders called on Governor Wolf to engage with local elected officials after the Governor held a press conference where he called local community leaders 'cowards' and threatened to withhold funding from local communities, revoke operating licenses from local employers and deny insurance claims.
More PA Senate hearings scheduled on the Wolf Administration's response to COVID-19… Last week, I participated in several public hearings examining the Governor's response to the coronavirus. This week, additional hearings are planned and include a review of the state's efforts to provide continuity of education for students (Monday); impacts on Pennsylvania's transportation system (Tuesday) and exploring the governor's plan to release certain inmates from State Correctional Institutions (Wednesday). WATCH LIVE
Senate leaders are weighing the next steps to ensure the public can get a better understanding of the Wolf Administration's process of picking winners and losers during the COVID-19 public health emergency. On April 30, Senate members issued a subpoena to Governor Wolf requesting more information on the process that dictated which businesses could stay open and which businesses were forced to close. The Governor denied this request, citing "Executive Privilege."
Gov. Wolf last week was joined by PA Attorney General Josh Shapiro to announce that he signed a new executive order extending the state's moratorium on foreclosures and evictions until at least July 10th. The action builds on a Pennsylvania Supreme Court order which closed court eviction proceedings until May 11 and ensures no renter or homeowner will be removed from their home for 60 more days.
The PA Department of Environmental Protection is encouraging businesses in counties that have moved from the "red phase" to "yellow phase" to take several steps to ensure the safety of water systems within buildings that have been closed or used less over the last several weeks. Businesses are being urged to develop a flushing plan that addresses the entire building; clean faucets and other fixtures; inspect equipment for functionality and safety and develop an ongoing water management plan.
Appeals Window Extended for Unemployment Claimants Who Were Denied Benefits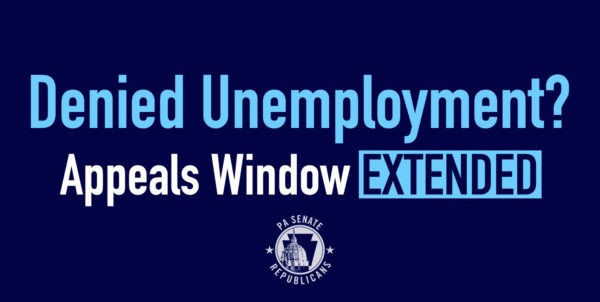 Unemployment Compensation (UC) applicants who were denied benefits will have more time to appeal the decision if they believe the denial was incorrect. Under normal circumstances, appeals must be filed within 15 calendar days of the mailing date of the determination of eligibility. However, due to delays created by the COVID-19 pandemic, appeals can be filed indefinitely for determinations issued during the pandemic.
More information on filing appeals of a denial of UC benefits is available from the Department of Labor and Industry.
The Senate Labor and Industry Committee and the Senate Communications and Technology Committee held a joint hearing last week to dig deeper into the flaws in the UC system that have left approximately 30 percent of all applicants without a single payment during the entire public health emergency, which began in mid-March. Video and written testimony from the hearing are available online.
Thinking of a Mail-In Ballot This Election?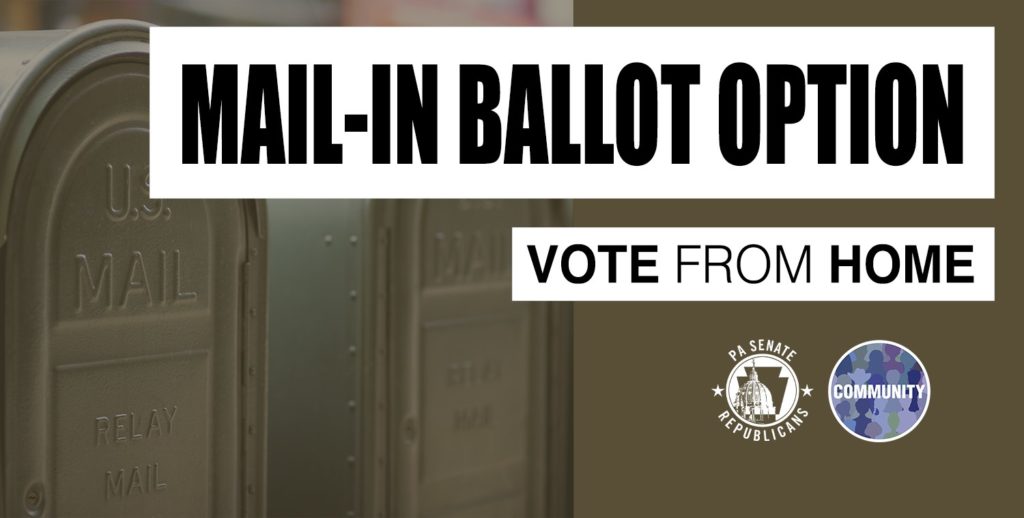 Less than a month out from the rescheduled June 2nd PA primary election, Pennsylvania voters are being encouraged to apply for a mail-in ballot as soon as possible. New voting reform legislation, Act 77 of 2019, made vote-by-mail possible in the Commonwealth. To date, nearly 1 million Pennsylvanians have applied for a mail-in ballot. Physical polling places will be open on June 2 with aggressive safety and social distancing guidelines in place. The state received $14 million in CARES Act funds to help ensure safe and secure voting during the pandemic.
WATCH: Vote by Mail Information [Sponsored by the Sullivan County, PA Board of Elections]
YAW: Letter to Attorney General Barr to Ensure OUR Rights are Protected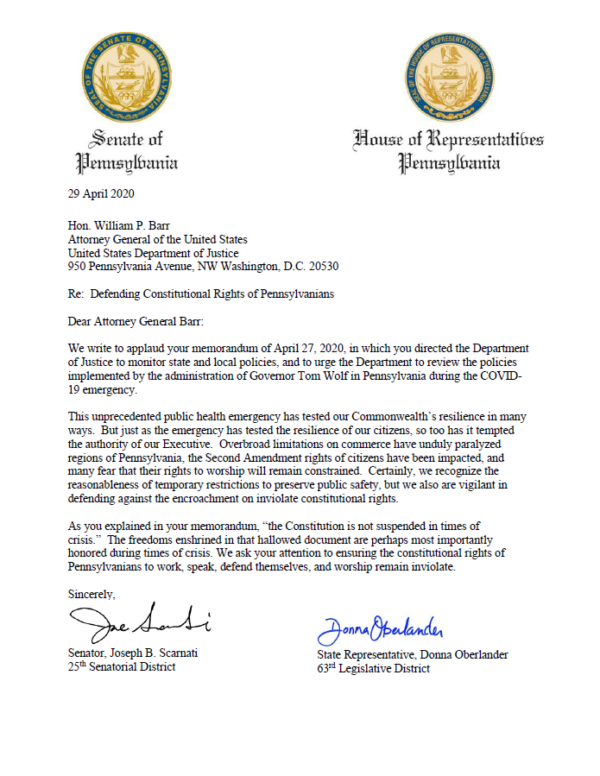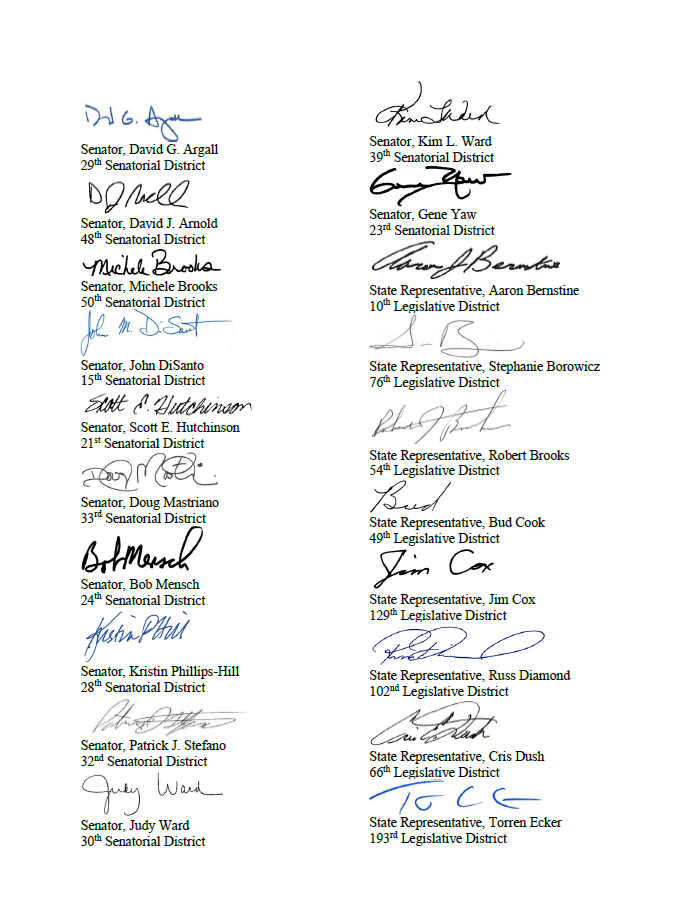 US Attorney General Barr announced recently he was asking the Department of Justice to monitor state and local governments to ensure there are no violations of our constitutionally guaranteed rights as lockdowns continue across the country. I joined members of the PA Senate and House to call on the AG to look into the actions Governor Wolf has taken to respond to the COVID-19 pandemic.
Limited Recycling Drop-Off Site Locations Reopening to Public Starting May 13
Lycoming County Resource Management Services will be slowly reopening recycling drop-off sites throughout the county.
The following sites will be reopened to the public starting May 13th: City of Williamsport, Hughesville Borough, Jersey Shore Borough, Loyalsock Township, and South Williamsport Borough.
Lycoming County remains in the "yellow phase" for reopening and visitors must continue to wear their masks while accessing the sites. (*If you or anyone in your household has COVID-19, please throw away your recyclables.) Single stream recycling is available in Lycoming County for those who do not wish to visit a recycling location. Reach out to your waste hauler for details.
To better accommodate the inbound recyclables and help with its transportation, more materials will be combined:
FIBER/PAPERS which are magazines, newspapers, chipboard, office paper junk mail, and cardboard that has been broken down are all acceptable into one container.
PLASTICS BOTTLES 1&2/METAL CANS which are plastic bottles/jars #1&2 only, tin/steel cans, and aluminum cans are all acceptable into one container.
GLASS BOTTLES/JARS are still acceptable and are still separated by color (clear/brown/green). PLASTIC BAGS ARE NOT PERMITTED IN THE RECYCLING CONTAINERS, PLEASE EMPTY ANY BAGGED MATERIAL AND TAKE THE BAGS BACK HOME WITH YOU (*only exception is for shredded office paper, please put your shredded office paper in a clear bag).
SEDA-COG Housing Rehab Work Offers Opportunity for Local Contractors
With Gov. Tom Wolf allowing construction to resume, general contractors have an opportunity to perform housing rehabilitation work with SEDA-Council of Governments (SEDA-COG) Housing Rehabilitation Program.
Contractors are especially needed in Bloomsburg, Milton, and Shamokin. SEDA-COG also does housing rehabilitation work in the Borough of Berwick, Jersey Shore Borough, City of Lock Haven, Mount Carmel Borough, Mount Carmel Township, South Williamsport Borough, and the City of Sunbury, and in Juniata, Montour, Snyder, and Sullivan counties.
Housing rehabilitation bids typically range from $20,000 to $65,000, with timely payment to contractors. For more information, contact SEDA-COG's Danielle King at 570-524-4491 ext. 7325 or dking@seda-cog.org.