Dear Friends,
Hello! Thank you for subscribing to my E-newsletter. I am honored to serve the 23rd Senate District and look forward to working with you toward building a better future for Pennsylvania!
This E-newsletter serves to keep you updated on what is happening throughout Bradford, Lycoming, Sullivan, Tioga and Union counties and what I am doing as your state senator in Harrisburg. I hope that you will find this E-newsletter helpful, and if you have any questions or concerns, please feel free to contact me.
Gene Yaw
State Senator
www.SenatorGeneYaw.com

Click here to find the latest information on coronavirus from the Pennsylvania Department of Health and the Centers for Disease Control and Prevention
Agriculture, Environmental Groups Endorse Bill Benefiting Farm Community, Water Resources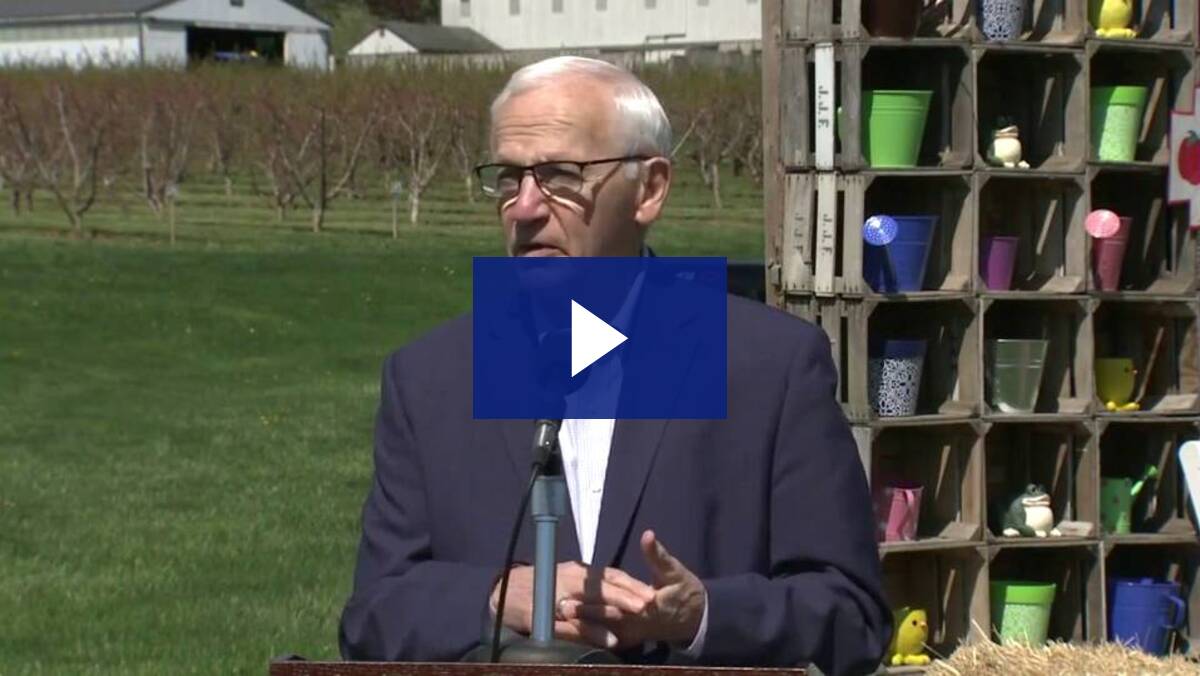 During a news conference this week at Flinchbaugh's Orchard & Farm Market in Hellam Township, York County, Pennsylvania Farm Bureau (PFB) and the Chesapeake Bay Foundation voiced support for my bill creating a new Agricultural Conservation Assistance Program (ACAP). The bill will provide needed funding and technical support to expand on-farm conservation practices throughout Pennsylvania, including high-priority areas such as the Chesapeake Bay Watershed.
The measure is also endorsed by the Penn State Ag Council, AgChoice Farm Credit, PA Forestry Association, Susquehanna County Conservation District and more…
Also seen in:
CBS 21 News – State senate members push bill to help farmers conserve water, keep fertilizers out
York Dispatch – Proposal would help Pa. farmers fund conservation plans
Lancaster Online – Pollution reduction work on Lancaster County farms could get boost in proposed bill
Bay Journal – Pennsylvania bill would earmark money to help farmers prevent pollution
Pennsylvania Business Report – Pennsylvania Farm Bureau, Chesapeake Bay Foundation endorse Sen. Yaw's Ag Conservation Bill
Senators Call on Governor to Halt Unilateral Action on Carbon Tax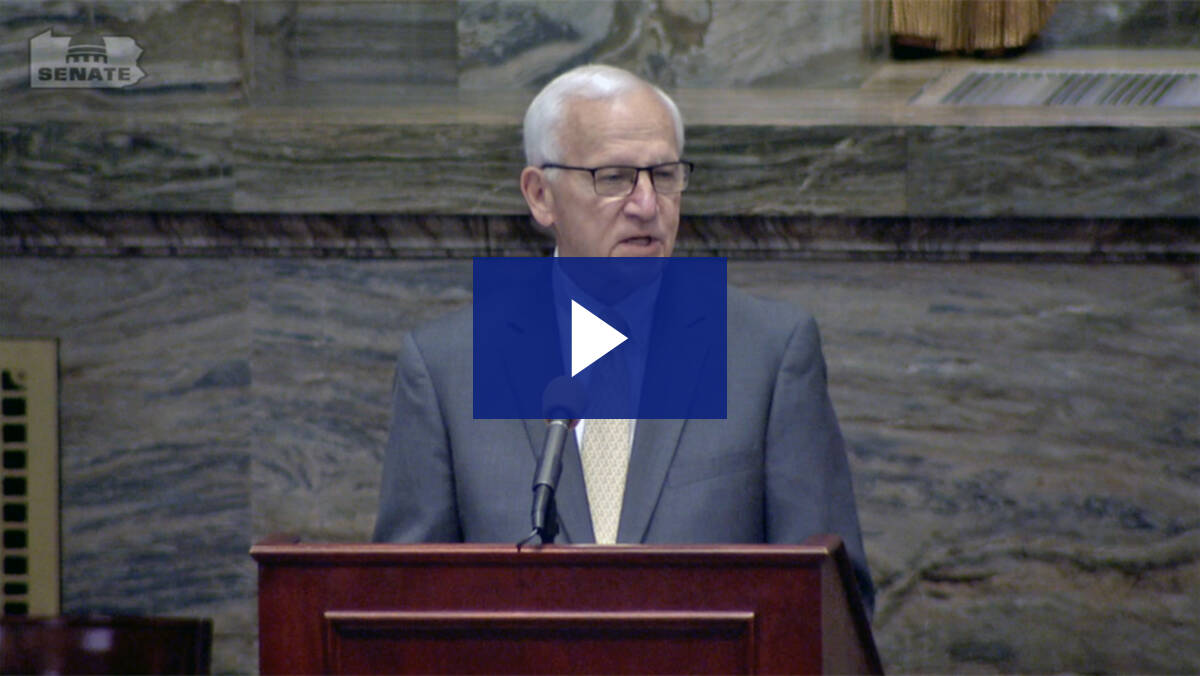 Yesterday, I chaired a voting meeting of the Senate Environmental Resources and Energy Committee where we approved a bill that would require legislative authorization of the Governor's proposal to have Pennsylvania join the Regional Greenhouse Gas Initiative (RGGI), or any other taxation schemes, proposed by this or any future administration.
Senate Bill 119, creates the Pennsylvania Carbon Dioxide Cap and Trade Authorization Act, and specifically prohibits the Department of Environmental Protection (DEP) from joining RGGI – or any similar pact — without legislative approval. RGGI is a superficial fix to curbing carbon dioxide emissions and fails to look at the big picture. To learn more on the Senate's response to the RGGI scheme, click here.
Comments on 2020 General Election Due by Friday, April 30
This is the final week for Pennsylvanians to share their experience from last year's election with the Senate Special Committee on Election Integrity and Reform. Election surveys for Pennsylvanians who voted by mail or in person will be accepted through Friday, April 30.
The committee is expected to use the survey responses and testimony gathered during its series of public hearings to produce a report with recommendations that will be presented to the General Assembly.
Legislative Update
Over the past several weeks, I have received many emails asking me to support legislation that provides for Pennsylvania State Preemption (Senate Bill 448) over firearms and ammunition regulations, as well as legislation that will create a two-tiered system (Senate Bill 565) for the concealed carrying of firearms for lawful purposes in Pennsylvania. I have cosponsored both of these bills.
In general, I have always believed the Second Amendment protects the rights of law-abiding citizens to own firearms and that the type of protection owned by the citizens should not arbitrarily be determined or restricted by the government. As is often said, "If guns are outlawed, only outlaws will have guns!" I stand ready to oppose any legislation which would impact the constitutional rights of law-abiding citizens.
Additionally, I have received several emails asking me to support legislation, Senate Bill 74, that would create a tax credit program for qualifying donations to a Pennsylvania pediatric cancer research hospital. The program would be capped at $10 million per year over the next 10 years. I supported this bill and voted to move it out of the Senate today.
This week, the Senate Environmental Resources Committee also held a joint hearing with the House of Representatives' Environmental Committee to discuss Alternate On-lot Septic Systems and DEP's interpretation of Act 34-2020, which provided for the use of alternate systems.
Many organizations have expressed concerns over the Department's failure to adhere to the law, essentially putting many land development projects in limbo. The Pennsylvania State Association of Township Supervisors (PSATS), PA Builders Association and others participated in the hearing.
Bipartisan Senators to Governor Wolf: Let the Williamsport Crosscutters Play Ball!
A bipartisan group of Senators recently sent a letter to Governor Wolf requesting that he amend the COVID-19 restrictions currently in place for Minor League Baseball. Under current restrictions, they are required to operate at 50% capacity with a 6-foot buffer between seats. The problem is, the 6-foot buffer makes it impossible for many stadiums to reach 50% capacity.
These organizations, including the Williamsport Crosscutters, missed the entire 2020 season due to the pandemic. We should not be overburdening them with restrictions now as fans return and they begin to recover from the long-term shutdown of our economy.
In Other News…
Committee OK's Small Games Bill for Fire Departments, Veterans Organizations…the Senate Community, Economic & Recreational Development Committee took action on a bill today to allow volunteer fire departments, veterans groups and other non-profit agencies to conduct online fundraisers. Senate Bill 243, would permit licensed eligible organizations to conduct online small games of chance fundraisers, to help offset losses incurred during the COVID-19 pandemic. As a result of Wednesday's unanimous vote, the bill advances to the full Senate for consideration.
Pennsylvanians reminded to register to vote by May 3 for primary election…With the May 18 municipal primary election fast approaching, Pennsylvanians are reminded that the deadline to register to vote is May 3.
Real ID deadline extended to 2023 due to ongoing pandemic: DHS…On Tuesday, the federal Department of Homeland Security (DHS) Secretary Alejandro Mayorkas announced that the agency has extended the Real ID enforcement date because of the ongoing coronavirus pandemic. Now, the DHS will begin requiring travelers to have Real IDs for domestic air travel on May 3, 2023, according to an announcement. Previously, the enforcement date was Oct. 1, 2021.