Tuesday, July 28, 2015
Dear Friends,
Hello! Thank you for subscribing to my E-newsletter. I am honored to serve the 23rd Senate District and look forward to working with you toward building a better future for Pennsylvania!
This E-newsletter serves to keep you updated on what is happening throughout Bradford, Lycoming, Sullivan, Susquehanna and Union counties and what I am doing as your state senator in Harrisburg. I hope that you will find this E-newsletter helpful, and if you have any questions or concerns, please feel free to contact me.
Gene Yaw
State Senator
www.SenatorGeneYaw.com
Heroin Treatment and Recovery Highlighted
PCN Highlights Center for Rural Pennsylvania Public Hearings on Heroin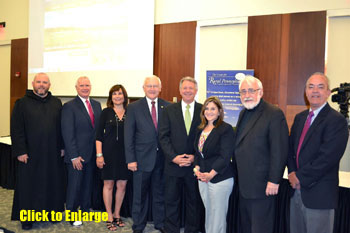 This summer, the Center for Rural Pennsyvlania, which I serve as Chairman, has once again convened a series of public hearings to solicit testimony on heroin and opioid addiction treatment and recovery services throughout the state.
On Tuesday, July 21, the Center hosted a hearing at Saint Vincent College in Latrobe. For a look at the hearing or to preview testimony, click the link above or visit my website.
On Wednesday, July 29, the Center will host its next hearing at the Commonwealth Medical College in Scranton from
10 a.m. – 2 p.m.
For more photos, click here.
Center for Rural PA Survey
Police Department Survey Indicates Few Departments Carrying Naloxone
Drug-related overdoses are occurring all across Pennsylvania. According to a recent survey conducted by the Pennsylvania Department of Drug and Alcohol Programs and the Center for Rural Pennsylvania, in the last 12 months, 84 percent of local police departments in Pennsylvania have responded to one or more drug-related overdose calls. However, 82 percent of local police departments are not currently carrying naloxone, a medication used to reverse opioid overdose.
While Act 139 of 2014 allows all first responders, including law enforcement, to carry and administer this medication, the survey found that the majority of local police departments are not carrying naloxone.
The survey did find that 28 percent of departments planned to provide naloxone to their officers within the next three months.
The mail survey was sent to 1,008 municipal police chiefs, or officers in charge, in late May. By the end of June, 578 completed surveys were returned, for a response rate of 57.3 percent.
Overall, the survey revealed the following results:
For a copy of the survey results, Pennsylvania Municipal Police Departments and Naloxone, visit www.rural.palegislature.us or call (717) 787-9555.

Multi-faceted treatment urged for drug addicts
Heroin addiction treatment needs to include more than just medication or short-term in-patient rehabilitative care, drug treatment experts and Ohio officials told Pennsylvania lawmakers Tuesday…
Read more from the Pittsburgh Tribune-Review.
Lawmaker proposes addiction response fund
Counties could tap a new fund to combat a widespread heroin and opioid epidemic under a proposal that a House lawmaker hopes to include in the final state budget. Read the Scranton Times Tribune article here.

Trehab holds Tiffany Pines Ribbon Cutting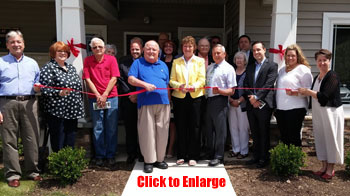 On July 17, my staff participated in the ribbon cutting ceremony to dedicate The Meadows at Tiffany Pines, a housing development in Montrose, Susquehanna County that meets a housing shortage for low and moderate income families and senior citizens. Tiffany Pines is a component of Trehab's initiative to develop affordable housing in the region.
I commend all of the partners involved on a job well done!
[Photo by Staci Wilson,
Editor, Independent Weekender]
PHEAA Reminds Students of Upcoming August State Grant Deadlines
PHEAA is reminding first-time Pennsylvania State Grant applicants planning to attend a community college that the program's application deadline is August 1.
Students who are first-time applicants enrolled in a 2-year program of study at business, trade or technical schools, hospital schools of nursing and community, junior or 4-year colleges or universities who are enrolled in a non-transferable program of study must also submit their State Grant applications by August 1.
Additionally, eligible students enrolled in the summer semester must complete the application by August 15.
For more information on the higher education financial aid process, schedules, for financial aid nights and FAFSA Completion Sessions and more, visit www.facebook.com/pheaa.aid.



2015 PA Fair Guide Available
What makes a fair so special? It's the community coming together, the entertainment and homemade food. It's the best of show, field, woodshop, oven, garden, paintbrush, needle and thread.
Whatever you're looking for, you can find it in 109 different fairs across the state. Support your friends, your family, and your farmers. Support your fair.

---
If you do not wish to receive this email, click here to unsubscribe.
Privacy Policy
2015 © Senate of Pennsylvania
senatorgeneyaw.com