HARRISBURG – A Senate Congratulatory Resolution recognizing Bucknell University on its 175th Anniversary was formally sponsored by Senator Gene Yaw (R-23) this week in Harrisburg.
"Since 1846, Bucknell University has pushed the boundaries of undergraduate education and actively shaped the world outside Lewisburg," Sen. Yaw said. "As a Bucknell student myself, I had the opportunity to experience first-hand this university where liberal arts and professional programs complement each other. Bucknell educates students for a lifetime of critical thinking and strong leadership, and I am honored today to recognize the institution on this significant milestone."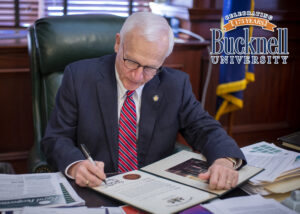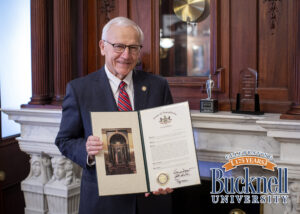 During his remarks at the State Capitol, Yaw also noted that the university holds a special place in his heart as a past Bucknell parent whose daughter graduated in 2015 and grandparent whose granddaughter will also be attending the university in the fall.
Yaw also discussed the university's accomplishments over the past 175 years.
"Throughout its history, Bucknell has since fostered a diverse, inclusive, supportive academic community. From the opening of its Female Institute in 1852 to its first international student's graduation in 1864 to its first African American student's graduation in 1875, Bucknell has been opening doors to education from the earliest days."
The school's first Commencement was held Aug. 20, 1851, for a graduating class of seven men. Among the board members attending was James Buchanan, who would become the 15th President of the United States.
Today, the university boasts over 3,700 undergraduate and graduate students, representing most states and 68 foreign countries, and there are more than 360 faculty members. Additionally, the University has 27 Division 1 Sports Teams.
Learn more about Bucknell University, click here. Visit the 175th Anniversary website, click here.
For more state-related news and information visit Senator Yaw's website at www.SenatorGeneYaw.com or on Facebook and Twitter @SenatorGeneYaw.
CONTACT: Nick Troutman (717) 787-3280