HARRISBURG – Sen. Gene Yaw (R-23) and his staff this week recognized local residents during the 106th Pennsylvania Farm Show in Harrisburg.
Sen. Yaw sponsored congratulatory resolutions for Mollie Bomgardner of Mifflinburg, Union County, and Scott and Bonnie Wheeland of Cogan Station, Lycoming County.
Farm Show Foundation Scholarship Recipient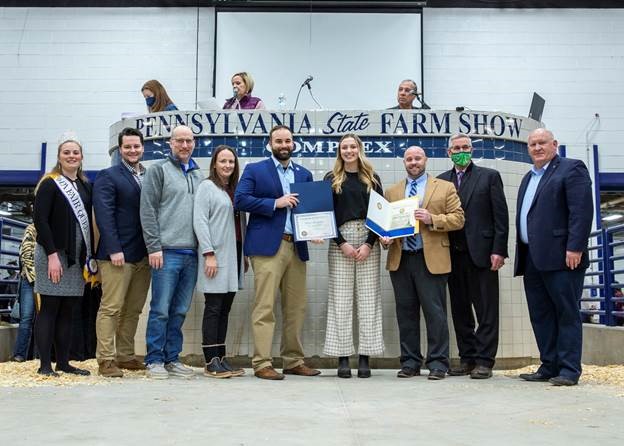 Mollie Bomgardner, the daughter of Daryl and Carrie Bomgardner, was one of 15 Pennsylvania students awarded a $3,500 Farm Show Foundation Scholarship. Over the years, Mollie has participated in 4-H and exhibited at the Farm Show in the Junior Market Swine Show and competed for Market Swine Master Showman. She's completing a dual major in early childhood education and special education with a minor in integrative STEM educational methods at Millersville University.
Since its start in 1993, the Pennsylvania Farm Show Scholarship Foundation has awarded more than $1.8 million in scholarships to more than 600 Farm Show exhibitors.
"Century Farm" Recipient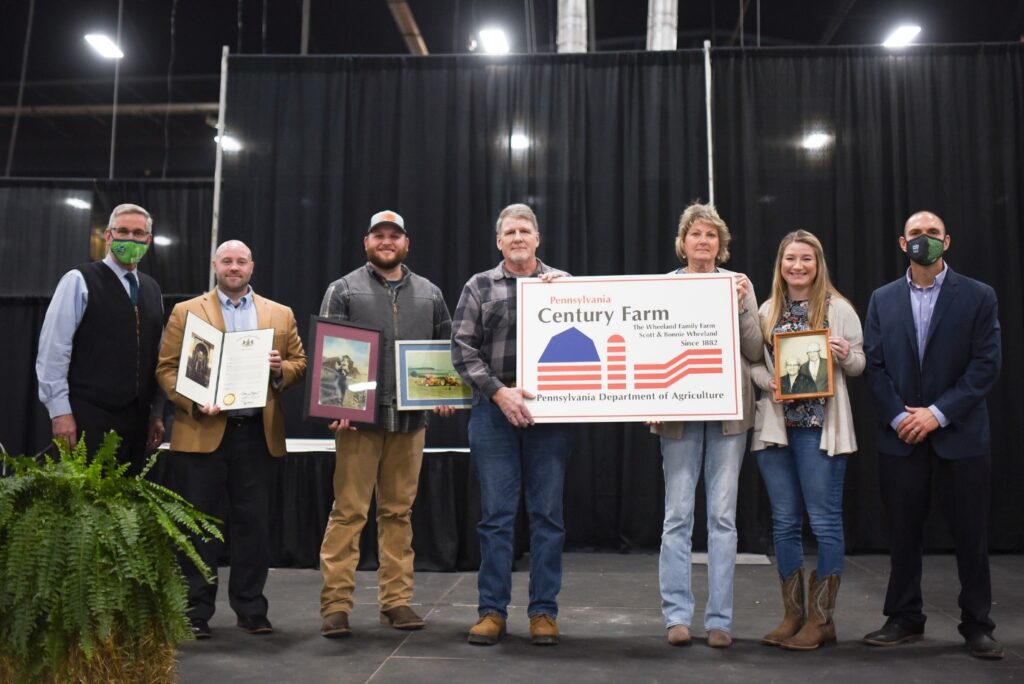 The Scott and Bonnie Wheeland Farm was originally purchased by Scott's great, great uncle, George Harmon, along with his wife Margaret Wheeland Harmon, in 1882.
After 21 years, the couple sold the farm to Scott's great grandparents, Harrison D. Wheeland and Ellen Harmon Wheeland. Scott's grandparents, Harrison and Margaret, later bought the property in 1924 for $5,000.
The couple ran the farm for more than five decades until passing it down to Scott's parents, Dale and Connie, in 1982. Harrison and Margaret would sell the produce that they grew, along with eggs and baked goods, each Saturday at the Williamsport Growers Market. The family also sold homemade butter.
Scott and Bonnie purchased the property in 1994 and are still farming to this day, along with their daughter, Megan. One day, Megan and her family will be the next generation to run the family farm. The original property consisted of 134 acres. Today, 87.33 of those original acres are still in use. The family currently grows corn, hay, soybeans and wheat and have a beef cattle operation. Lycoming County is home to 70 century farms and 1 bicentennial farm.
"We are honored by their work and commitment to agriculture," Sen. Yaw said. "It is their strong work ethic that connects us to our past and preserves it for future generations. It is certainly an extraordinary accomplishment."
During the ceremony, the family received a sign identifying the property as having historic status, which was presented by Secretary of Agriculture Russell Redding.
The "Century" and "Bicentennial" farm program was established by the Pennsylvania Department of Agriculture to help promote the strength and durability of Pennsylvania's farm families. In order to qualify, a family member must live on the farm on a permanent basis, and the farm must include at least 10 acres of the original holding or gross more than $1,000 annually from the sale of farm products.
CONTACT: Nick Troutman, Chief of Staff, 717-787-3280