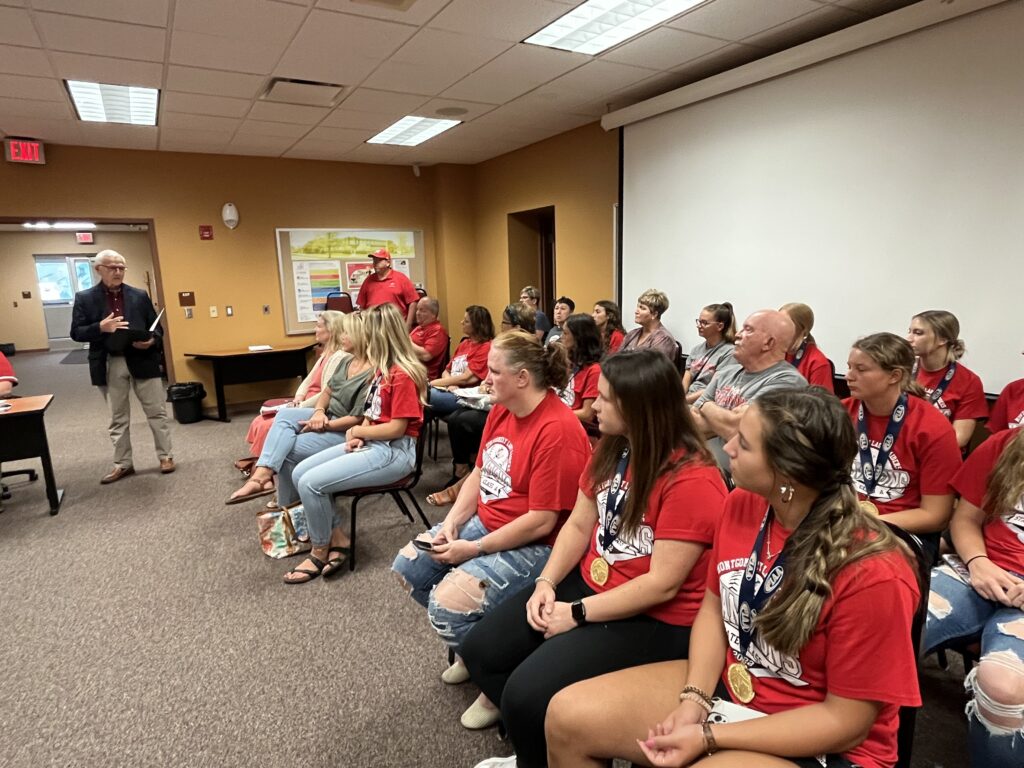 HARRISBURG – State Sen. Gene Yaw (R-23) joined the Montgomery Area School Board yesterday to recognize the district's Red Raider High School softball team for their PIAA Class A state championship.
The team and coaches were on hand to receive proclamations, sponsored by Yaw, honoring their win against DuBois Central Catholic High School in June. The win marked the school's first state championship in any sport.
"It was an honor to present the coaches and the Red Raiders girls' softball team with Senate proclamations recognizing their outstanding athletic accomplishments this season," Yaw said. "Their dedication, determination and hard work resulted in their PIAA Class A victory and the first ever school championship."
Team members honored include: Vallyn Ault; Madison Budman; Addison Cross; Summer Drick; Brynn Fisher; Carly Hall; Skylar Hunter; Brynn McRae; Shelby McRae; Taylor McRae; Addison Muhl; Faith Persing; Delilah Prietz; Kaitlyn Raemsch; Falin Reynolds; Savanna Sauers; Chloe Smith; Cortney Smith; Kaylei Snyder; Isabella Staggert; Samantha Ulrich; Jenna Waring; Kailyn Woltz; Sloan Wooten and Izabella Wright.
In addition to Chris Glenn as head coach, assistant coaches honored include Harry Overdorf; Amanda Kustanbauter; Wayne Stine; Patrick Snyder and Madge Guiser.
For more state-related news and information, visit Senator Yaw's website at www.SenatorGeneYaw.com or on Facebook and Twitter @SenatorGeneYaw.
CONTACT:
Liz Vollman
(570) 322-6457