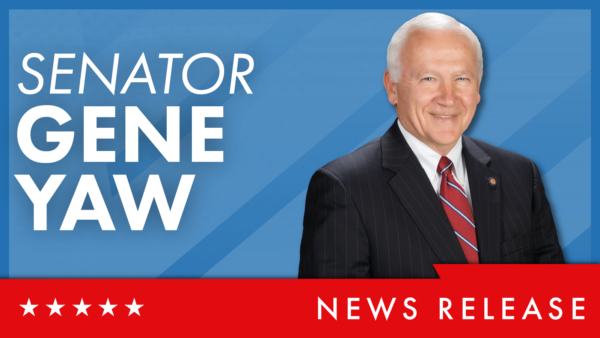 By Sen. Gene Yaw (R-23)
In January, the state Senate passed, and I supported, legislation that would present three state constitutional amendments to voters, including a requirement for Pennsylvania voters to present identification at a polling place before they receive a ballot. Approved identification would consist of photo and non-photo IDs alike. Senate Bill 1, which included these proposed constitutional amendments, must be approved by the House and Senate in two consecutive legislative sessions and then approved by voters through a ballot referendum. The bill made it through the first step by receiving a majority vote in the Senate.
Like many of my colleagues in the Pennsylvania General Assembly, I have been receiving a form email criticizing the state Legislature for, as they say, "disenfranchising hundreds of thousands of voters by proposing a constitutional amendment that would require personal identification at the polls in order to vote."
Quite frankly, when answering these form emails, I tell the writers that I, personally, do not know of anyone who does not have an identification of some type. I advise that if the writer knows of anyone who does not have an ID, why don't they help that person get an ID? I further advise that if the writer knows of someone, but does not want to assist that person in obtaining an ID, contact my office and I will help the person get an ID.
A photo ID is required for virtually every major activity in our lives. The following are only a few of the activities which require an ID: driving a car, renting a car, flying, accessing a federal building, adopting a pet, applying for a fishing license, applying for a hunting license, applying for a marriage license, applying for Section 8 housing vouchers, applying for unemployment benefits, checking into a hotel, getting a tattoo or body piercing, getting any document notarized, obtaining insurance, opening a bank account, picking up a package at the post office, picking up prescription drugs, purchasing alcohol and visiting someone in prison. Ironically, to attend Gov. Josh Shapiro's and Lt. Gov. Austin Davis' inaugural celebration on Jan. 17, a photo ID was required.
To say that hundreds of thousands of persons who want to vote will be denied the opportunity to do so because they do not have an ID is simply unsupported. Furthermore, Act 131 of 2020 made it possible for Pennsylvanians experiencing homelessness to be issued a free initial photo ID or renewal. Individuals are required to apply in person at a PennDOT Driver License Center and must meet certain requirements.
Voter ID is the single most important step to assuring that our elections are fair and honest. My challenge to every person and elected official – if you know someone who does not have an ID, don't complain that this is a problem, accept the responsibility of helping this citizen get an ID. If, as a citizen or elected official of Pennsylvania, you are not willing to do that – shame on you.
Senator Gene Yaw represents the 23rd Senatorial District, consisting of Bradford, Lycoming, Sullivan, Tioga and Union Counties.