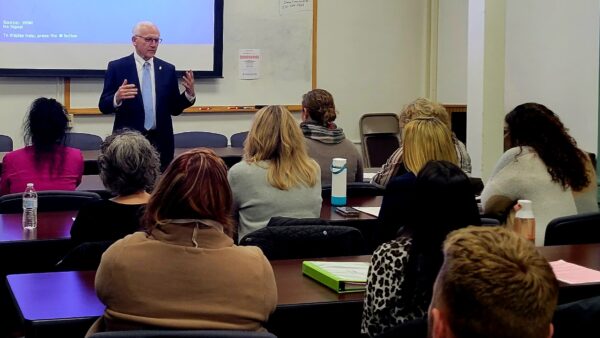 WILLIAMSPORT – State Sen. Gene Yaw (R-23) met with participants of the 2023 Leadership Lycoming program, sponsored by the Williamsport/Lycoming Chamber of Commerce, on Thursday.
The specialized training program is designed to understand the needs of the community it serves and develop and motivate effective leaders. Two dozen individuals make up the current Class of 2023. Candidates are nominated by businesses, corporations, or professional organizations where they are employed and selected based on their demonstrated leadership potential and sincere desire to contribute time and effort within their community.
"I enjoyed meeting the current class participants during their State and Local Government Day program," Sen. Yaw said. "Developing the next generation of leaders is important in any sector. Whether that be government, academia, business healthcare or nonprofits. We are living and working in a time of accelerated change, and the Leadership Lycoming program will help prepare and shape our leaders of tomorrow. It was great sharing my experience in public service and talking about how legislative actions have impacts on all aspects of our society."
The application window for the Class of 2024 is now open. Interested individuals can download an application form here.
For more state-related news and information, constituents can visit Yaw's website at www.SenatorGeneYaw.com or follow him on Facebook and Twitter @SenatorGeneYaw.
CONTACT:
Matt Wise
(570) 322-6457