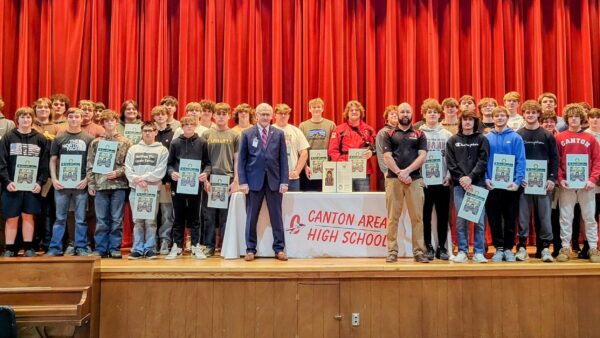 WILLIAMSPORT – State Sen. Gene Yaw (R-23) joined Canton High School administrators, faculty, students and staff on Thursday to recognize the Warrior Football Team for their 2022 PIAA District IV Class A Football Championship.
The team and Head Coach Tyler Sechrist were on hand to receive proclamations, sponsored by Yaw, honoring their 42-7 win against the Muncy Indians in November. The win marked the team's second-consecutive District IV Class A title.
"It was an honor to present Principal Jacopetti, Coach Sechrist and all the players with Senate proclamations recognizing their outstanding athletic accomplishments last season," Yaw said. "Their dedication, determination and hard work resulted in their PIAA Class A victory and their second football championship."
Under the expert guidance of Coach Sechrist and Assistant Coaches David Reynard, Brock Kitchen, Craig Route, Greg Bellows, David Machmer, Jimmy Pepper, Ryan VanNoy, Seth Robbins, Jeff Morse and Shane Wilber, the team was comprised of Joe Luner, Holden Ward, Wesley Castle, Bailey Ferguson, Weston Bellows, Ben Fitch, Austin Allen, Aydin Holcomb, Zack Colton, Averey Dibble, Elton Weingartner, Walker Baillie, Michael Davis, Hayden Ward, Riley Parker, Dawson Burgess, Hudson Ward, Aiden Palmer, Carson Rockwell, Dylan Frisbie, Ryland Sakers, Mason Nelson, Kevin Kreppenneck, Gage Pepper, Brenen Taylor, Jason Mahosky, Rian Eberly, Lakota Frisbie, Leland Pepper, Luke Crawley, Mason Harold, Quincey Wesneski, Isiah Colton, Elijah Kilmer, Reed Taylor, William Colton, Michael Beers, Talon Williams, Raiden Lyon and Thomas Guindon.
For more state-related news and information, visit Senator Yaw's website at www.SenatorGeneYaw.com or on Facebook and Twitter @SenatorGeneYaw.