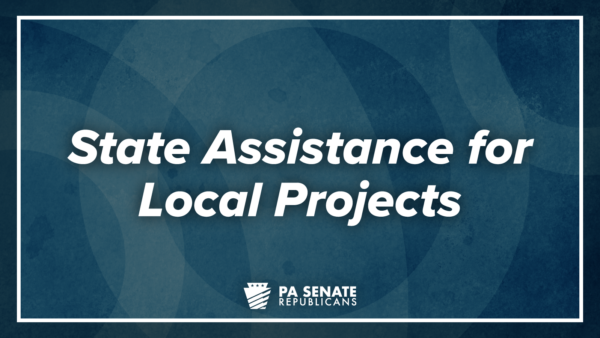 LYCOMING COUNTY – Members of the region's legislative delegation announced over $2.5 million in state grants for important community and economic development projects throughout Lycoming, Sullivan and Union counties. State Sen. Gene Yaw (R-23), Rep. Jamie Flick (R-83) and Rep. Joe Hamm (R-84) made the announcement following the Commonwealth Financing Authority's (CFA) meeting Thursday in Harrisburg.
"The investments announced today through the LSA statewide grant program will be incredibly impactful for our communities by funding important economic development, infrastructure, public safety and recreation projects," Sen. Yaw said. "In fact, many of the competitive grants announced in our region include funding for wastewater treatment facilities, which have faced increased financial responsibilities for operation and maintenance in recent years, due to aging infrastructure. I was happy to work closely with Rep. Flick and Rep. Hamm to identify these important projects across the region."
"As a strong advocate for the 83rd District, it is important to me that we focus on investing in projects that enhance public safety and improve aging infrastructure for residents here at home," says Rep. Jamie Flick (R – Lycoming / Union). "The Gregg Township Municipal Authority Wastewater Treatment Plant currently serves 221 residential customers, 18 commercial businesses, and the Federal Correctional Complex Allenwood, with significant growth anticipated in the coming years. I appreciate the collaboration and working relationship with Senator Yaw, who also supports and recognizes the vital importance of helping this township update their infrastructure and expand their capacity to serve the community of northern Union County."
"I was honored to support funding for these critical public infrastructure projects in the 84th District. Access to reliable and affordable public water and sewer is essential to maintaining thriving residential neighborhoods and attracting businesses to locate and expand in Pennsylvania," said Rep. Joe Hamm (R – Lycoming/Sullivan). "I appreciate working together with Senator Yaw to ensure we bring these dollars back to fund vital projects in rural Pennsylvania."
In Lycoming County, the following projects received grant funding through the LSA program:
Hughesville-Wolf Township Joint Municipal Authority – $760,000 to replace a sewer gravity main located in Wolf Township;
Jersey Shore Area Joint Water Authority – $242,000 for upgrades to its water treatment plant in Jersey Shore Borough;
West Branch Regional Authority – $679,753 for a sewer collection system extension in Clinton Township.
In Sullivan County, the following project received grant funding through the LSA program:
Dushore Sewer Authority – $190,493 for sliplining sewer lines on Churchill Street located in Dushore Borough;
In Union County, the following project received grant funding through the LSA program:
Gregg Township Municipal Authority – $650,000 to upgrade the wastewater treatment plant located in Gregg Township.
"The authority is very grateful to receive this funding," said James J. Carey, Board Chairman of Gregg Township Municipal Authority. "This state grant will enable the authority to implement critical equipment upgrades at the wastewater treatment plant. These upgrades will improve the plant's efficiency and support increasing demands on GTMA's entire system, allowing the authority to continue to keep stable rates for our valued customers."
The legislators noted a number of other important projects were funded through the LSA Statewide program.
The PA Race Horse Development and Gaming Act (Act 2004-71), as amended, provides for the distribution of gaming revenues through the CFA to support projects in the public interest within the Commonwealth of Pennsylvania. The CFA was established in 2004 as an independent agency of the Department of Community and Economic Development to administer Pennsylvania's economic stimulus programs. The CFA reviews and evaluates applications based on cost, strategic importance, and impact.
CONTACT:
Nick Troutman (Sen. Yaw)
717) 787-3280
Erik Houser (Rep. Hamm)
(570) 546-2084
Alivia Tagliaferri (Rep. Flick)
(570) 321-1270