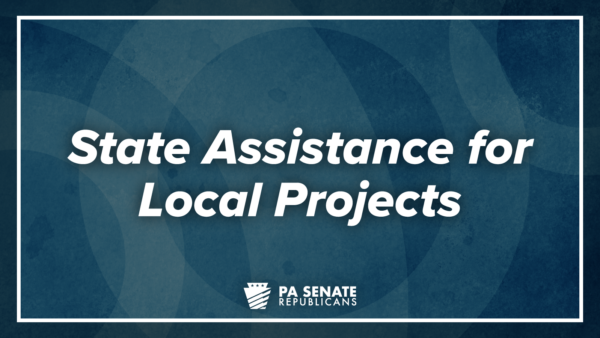 WILLIAMSPORT – State Sen. Gene Yaw (R-23) announced today that projects in Lycoming, Sullivan and Tioga counties will receive funding through Pennsylvania's Multimodal Transportation Fund (MTF). Yaw, as well as Rep. Joe Hamm (R-84) and Rep. Clint Owlett (R-68) endorsed the projects, which were approved by the Commonwealth Financing Authority (CFA) during its March 16 meeting.
"In our region, ensuring residents have access to education, healthcare, food, and other services means we must pay particular attention to our current infrastructure and build new assets to accommodate increasing demand," Sen. Yaw said. "Maintaining and improving our roads and bridges and expanding access to our fixed route services is an essential component of any long-term plan. I am committed to supporting projects that keep us moving forward."
The MTF applications approved today include:
Famvest XII-Lycoming Mall LLC, Lycoming County: $50,000 will be used to complete streetscape and roadway improvements around the mall property in Muncy Township.
Sullivan County: $100,000 will be used to construct and install a passenger bus shelter to service the recently expanded BeST Transportation fixed route services connecting Dushore to Mildred and Laporte.
Westfield Township, Tioga County: $350,000 will be used to replace the Howland Hill Road Bridge.
"I am pleased to see this funding to help improve our roads and bridges in the Westfield area," Owlett said. "Transportation infrastructure is vital to quality of life in our communities. I am glad to work with Sen. Yaw in support of this project."
"The Sullivan County Commissioners have worked diligently with BeST Transit to establish a Bus Passenger Shelter in Laporte. In rural Pennsylvania, these types of projects have a tremendous impact on our communities. I was pleased to support Sullivan County's Multimodal grant funding request to make this project a reality," said Rep. Hamm. "I was also pleased to support the Lycoming Mall Streetscape Project, which will continue the progress being made to redevelop that site from a dilapidated mall into a thriving neighborhood. I appreciate Senator Yaw's strong advocacy for both projects."
"This Bus Stop project will help move forward our fixed route bus service here in Sullivan County," said Darlene Fenton, Sullivan County Commissioner. "This will allow for a handicap accessible location for citizens to be able to safely wait for the bus. We are very excited. This will be the first bus stop in Sullivan County and it will be accessible to all."
The Multimodal Transportation Fund provides grants to encourage economic development and ensure that a safe and reliable system of transportation is available to the residents of the commonwealth. Funds may be used for the development, rehabilitation and enhancement of transportation assets to existing communities, streetscape, lighting, sidewalk enhancement, pedestrian safety, connectivity of transportation assets and transit-oriented development.
For more state-related news and information, visit Senator Yaw's website at www.SenatorGeneYaw.com or on Facebook and Twitter @SenatorGeneYaw.
CONTACT:
Nick Troutman
(717) 787-3280