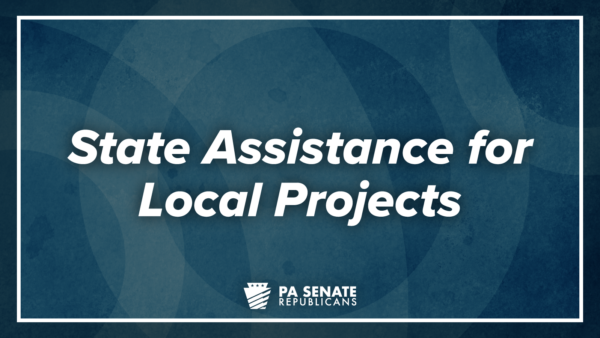 BRADFORD COUNTY – State Sen. Gene Yaw (R-23) and Rep. Tina Pickett (R-110) announced over $1.6 million in state grants for important community and economic development projects throughout Bradford County. The announcement was made following the Commonwealth Financing Authority's (CFA) meeting Thursday in Harrisburg.
"The investments announced today across Bradford County will be incredibly impactful for our communities by funding important economic development, infrastructure, public safety and recreation projects," Sen. Yaw said. "In fact, many of the competitive grants announced include funding for projects that are desperately needed, due to aging infrastructure. I was happy to work closely with Rep. Pickett to identify these important projects across the region."
"The grants for which I advocated for on behalf of South Waverly Borough and Tuscarora Township total more than $1 million. This is money well spent on vital upgrades to the transportation infrastructure here in the Northern Tier," said Rep. Pickett. "Projects like these impact all of us because they improve public safety and are critical to our region's economic growth. I appreciate the opportunity to partner with Sen. Yaw to fulfill these needs in our local communities."
In Bradford County, the following projects received grant funding through the LSA program:
New Albany Borough – $198,900 to assist with a wastewater treatment plant in the Borough;
Rome Borough – $38,556 to complete a planning for the evaluation of hydraulic calculations of Wysox Creek in the Borough;
Sayre Borough – $106,753 to expand the police department headquarters in the Borough;
South Wavery Borough – $575,854 to replace the box culvert located on Elmira Street over Dry Brook Creek in the Borough;
Tuscarora Township – $452,000 to replace a deteriorating culvert located in the Township;
Wysox Township – $245,000 for Phase III improvements to Wysox Community Park in the Township
The legislators noted a number of other important projects were funded through the LSA Statewide program.
The PA Race Horse Development and Gaming Act (Act 2004-71), as amended, provides for the distribution of gaming revenues through the CFA to support projects in the public interest within the Commonwealth of Pennsylvania. The CFA was established in 2004 as an independent agency of the Department of Community and Economic Development to administer Pennsylvania's economic stimulus programs. The CFA reviews and evaluates applications based on cost, strategic importance, and impact.
CONTACT:
Nick Troutman (Sen. Yaw)
(717) 787-3280
Andy Briggs (Rep. Pickett)
(717) 260-6474