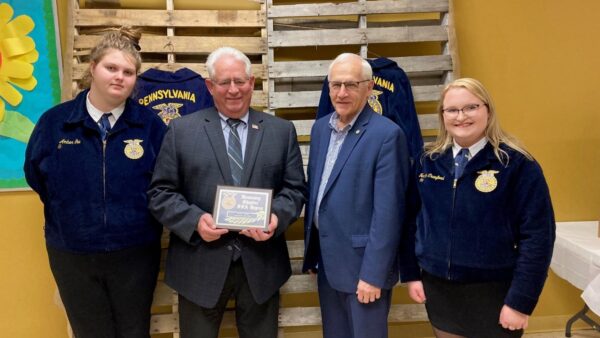 WELLSBORO – State Sen. Gene Yaw (R-23) joined the Grand Canyon Future Farmers of America (FFA) on Wednesday for their annual banquet and to recognize their many accomplishments throughout the year.
"I was honored to participate in the Grand Canyon FFA's banquet this evening and take time to recognize the value of their leadership," Sen. Yaw said. "Pennsylvania's long agricultural heritage continues to foster bright, young minds working to strengthen this essential industry. The importance of agricultural education is paramount to the future of our state."
The FFA Grand Canyon Chapter currently has 114 students enrolled and is overseen by Wellsboro High School teacher Melanie Berndston. Their mission is to prepare students for success in careers or post-secondary education as well as a lifetime of informed choices in the global systems of agriculture, food, fiber, and natural resources.
In 2021-2022, the FFA Grand Canyon Chapter received 5th place for their National Environmental Team, they were Runner-Up state champion for their Forestry Team, and Silver in the National Ag Issues.
For more state-related news and information, constituents can visit Senator Yaw's website at www.SenatorGeneYaw.com or follow him on Facebook and Twitter @SenatorGeneYaw.
CONTACT: Elizabeth Weitzel
717-787-3280