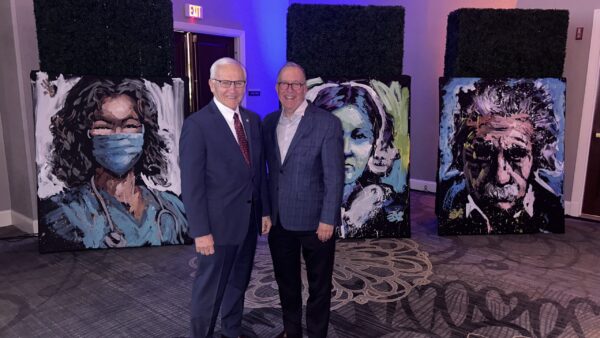 HARRISBURG – Guthrie Robert Packer Hospital in Sayre, Bradford County, was honored during the 2023 Hospital and Healthsystem Association of Pennsylvania (HAP) annual Leadership Summit in Harrisburg last week, according to Sen. Yaw (R-23).
Yaw joined hospital staff and leaders as they received two Achievement Awards:
The Optimal Operations Award for implementing a new team-based approach to nursing to reduce staff turnover and vacancies, improve patient and staff satisfaction, and improve quality.
The In Safe Hands Award for implementing new procedures to reduce hospital-acquired infections.
"Despite unprecedented challenges faced by rural health systems in recent years, Guthrie Robert Packer Hospital continues to exceed expectations," said Sen. Yaw. "Staff and administrators there are setting the standard for innovative approaches to patient-focused care and safety, and I am pleased to see their dedication and tireless work recognized."
HAP's annual Achievement Awards program recognizes hospitals and health systems that are employing innovative approaches to strengthening the safety and quality of care, enhancing operations and patients' experience, and partnering with their communities to address public health needs. This year, 12 projects were selected from 82 entries.
For more state-related news and information, constituents can visit Senator Yaw's website at www.SenatorGeneYaw.com or follow him on Facebook and Twitter @SenatorGeneYaw.
Photo caption: Sen. Gene Yaw (R-23) is joined by Guthrie Robert Packer Hospital President and Chief Executive Officer Dr. Edmund Sabanegh, M.D., M.B.A., at the 2023 Hospital and Healthsystem Association of Pennsylvania (HAP) Leadership Summit in Harrisburg.
CONTACT:
Elizabeth Weitzel
717-787-3280