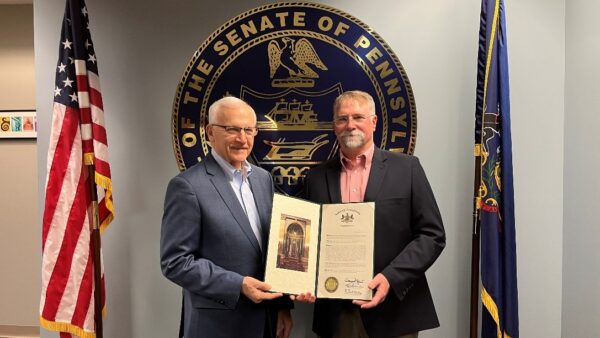 HARRISBURG – Sen. Gene Yaw (R-23) recently recognized outgoing Penn State Extension Area 3 Client Relationship Manager (CRM), Mark Madden, on his retirement after more than twenty-nine years of dedicated service.
Madden has worked for Penn State Extension since 1994, most recently in energy development programming with an emphasis on private water supplies, and its impact on agriculture and landowners.
Prior to his time with Extension, Mark worked for the Bradford County Conservation District under the Chesapeake Bay Nutrient Management Program and also served as a crop consultant with the Sulbra Crop Management Association.
"Mark has been a trusted friend and colleague to the 23rd District for many years," Sen. Yaw said. "From his time at the Bradford County Conservation District to his nearly three-decades of service with Penn State Extension, I commend him on his many contributions to our region and its residents and wish him all the best in his next chapter."
Penn State Extension Area 3 includes Tioga, Bradford, Susquehanna, Lycoming, Sullivan, and Wyoming Counties.
For more state-related news and information, constituents can visit Senator Yaw's website at www.SenatorGeneYaw.com or follow him on Facebook and Twitter @SenatorGeneYaw.
CONTACT: Elizabeth Weitzel
717-787-3280