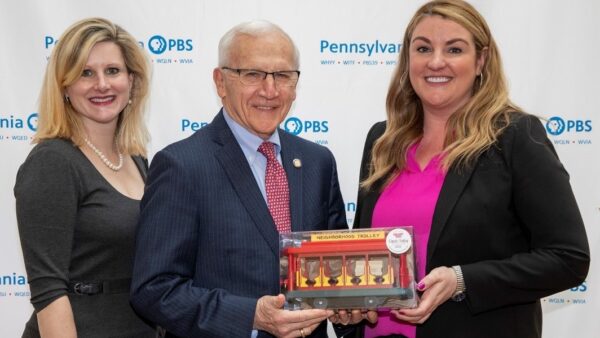 HARRISBURG – Sen. Gene Yaw (R-23) was selected by WVIA as a recipient of the "Good Neighbor Award" at the inaugural PA PBS 2023 Champions of Lifelong Learning Awards at the State Capitol on Tuesday, May 2nd.
Yaw, a member of the Center for Rural Pennsylvania Board of Directors and a champion of public strategies to combat the opioid epidemic, was honored by WVIA for his work on the network's "Battling Opioids" series.
"The Good Neighbor Awards are given in the spirit of Fred Rogers to individuals and organizations that have made significant contributions to improving the quality of life in our community," Vicki Austin, WVIA Senior Director of Grants and Education, said. "WVIA, a Pennsylvania PBS station, is pleased to recognize Senator Yaw as a champion of Lifelong Learning who has had a positive impact on Pennsylvania communities."
"The opioid epidemic calls for an unprecedented statewide response and an all hands-on-deck approach from healthcare professionals, public media, and public policy makers," Senator Yaw said. "While there is still much work to be done, the Center for Rural Pennsylvania is continuing to help build consensus across Pennsylvania for taking action to combat this crisis. WVIA is a valued partner in that fight. I was proud to join them on their "Battling Opioids" series and thank them for this wonderful recognition."
For more state-related news and information, constituents can visit Senator Yaw's website at www.SenatorGeneYaw.com or follow him on Facebook and Twitter @SenatorGeneYaw.
CONTACT: Elizabeth Weitzel
717-787-3280