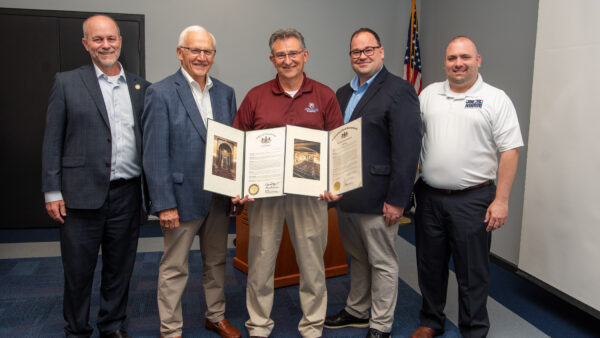 HARRISBURG – Sen. Gene Yaw (R-23) today recognized outgoing Chief of Police and Director of Campus Safety and Security, Chris Miller, on his retirement from the Pennsylvania College of Technology (PCT) after 21 years of dedicated service.
"Chief Miller has been an institution at PCT for many years," Sen. Yaw said. "His dedication to the safety and security of the college, its faculty, and its students is unmatched, and he will be greatly missed. I commend Chief Miller on his many contributions to PCT and wish him well in his next chapter."
Chief Miller began his duties as Chief of Police on February 25, 2002. In 2013, his role was expanded to Director of Campus Safety where he focused on preparing plans, guidelines, and training for disasters and crisis situations.
"Chris Miller served with distinction as Penn College's Police Chief and Director of Campus Safety for more than two decades," said President Michael J. Reed. "In addition to overseeing the police department so capably, he was fully committed to planning initiatives that served to ensure the college is always ready to respond to potential threats or crises. He worked diligently to strengthen the police department's relationships with the campus community and with other law enforcement agencies. Chief Miller was an exceptional ambassador for the college, and we wish him all the best in his retirement."
According to Reed, Miller is also a 2023 recipient of PCT's Distinguished Staff Award. This award recognizes employees who demonstrate superior job performance and outstanding service.
Prior to his service at PCT, Miller served as Chief of Police for the Montoursville Borough Police Department. He also served as dispatcher for the Lycoming County Department of Emergency Services from 1987 to 1989.
A Lycoming County native, Miller is a 1979 graduate of Montoursville Area High School, and he attended the former Williamsport Area Community College before pursuing a career in law enforcement. Chief Miller is a 1982 graduate of the Pennsylvania State Police Academy.
For more state-related news and information, constituents can visit Senator Yaw's website at www.SenatorGeneYaw.com or follow him on Facebook and Twitter @SenatorGeneYaw.
Photo credit: The Pennsylvania College of Technology
Photo Caption : Pictured L to R – Rep. Jamie Flick (R-83), Senator Gene Yaw (R-23), Chief Chris Miller, Rep. Michael Stender (R-108), Rep. Joe Hamm (R-84)
CONTACT: Elizabeth Weitzel
717-787-3280