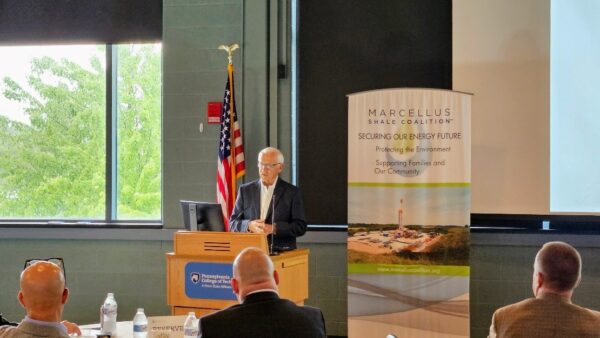 WILLIAMSPORT – The Marcellus Shale Coalition (MSC), Williamsport/Lycoming Chamber of Commerce, and community and business leaders from across the region gathered earlier this week in Williamsport to provide an update on the state of the natural gas industry, according to Sen. Gene Yaw (R-23).
Held at the Pennsylvania College of Technology's (PCT) campus in Williamsport, guests were welcomed by President Michael Reed.
During the policy portion of the forum, Yaw highlighted the need to improve the stability of Pennsylvania's power grid through a diverse energy portfolio.
"Short sighted environmental policies have forced fossil fuel plants into nonexistence, resulting in fewer reliable energy sources to shoulder the burden of increased demand on Pennsylvania's electrical grid," Sen. Yaw said. "Renewable energy sources, like wind and solar, are intermittent, limited, and dependent on weather, while power plants fueled by natural gas have remained dependable energy producers. There is no carbon-neutral future without natural gas in the present and we need to challenge people to show us any clean or green project that does not depend on fossil fuels."
Yaw also mentioned the importance of Pennsylvania's Marcellus Shale Impact Fee, which continues to deliver millions of dollars to county and local governments to directly benefit communities across the Commonwealth.
"The Act 13 Impact Fee is probably the most important piece of legislation for rural Pennsylvania in my lifetime," Sen. Yaw said. "The Impact Fee not only funds critical projects locally, but also a wide variety of important environmental projects throughout the state. The natural gas industry, along with Penn College, have been great partners in funding important projects in our communities, creating new jobs, and ensuring we have a well-trained, skilled workforce for careers in the energy sector."
Marcellus Shale Coalition President Dave Callahan discussed the coalition's partnership with Penn College, the state's premier technical institution with approximately 100 STEM-related academic programs emphasizing hands-on, experiential learning and a steady stream of highly trained graduates.
"Natural gas is the workhorse of Pennsylvania's economy, generating sustained revenue, jobs, and opportunity across the Commonwealth, including in Lycoming County," said Callahan. "We're proud of our industry's continued partnership with Penn College to advance skills training and better prepare students for local energy careers today and well into the future. As we continue to develop these resources responsibly, commonsense policies that encourage production growth, pipeline expansion, and manufacturing and power generation use will help ensure more Pennsylvanians share in the broad benefits of natural gas development."
Founded in 2008, the Marcellus Shale Coalition works with exploration and production, midstream and supply chain partners in the Appalachian Basin and across the country to address issues regarding the production of clean, job-creating, American natural gas from the Marcellus and Utica Shale plays.
For more state-related news and information, constituents can visit Senator Yaw's website at www.SenatorGeneYaw.com or follow him on Facebook and Twitter @SenatorGeneYaw.
CONTACT:
Elizabeth Weitzel
717-787-3280