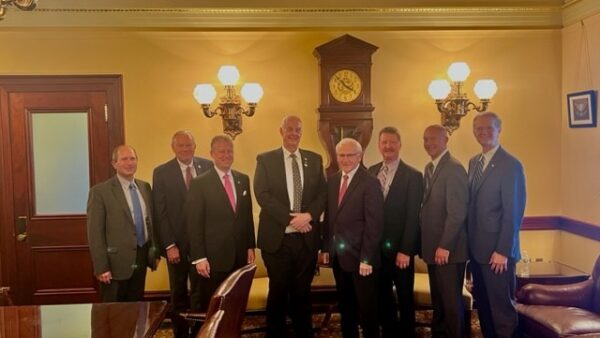 HARRISBURG – Recently, legislators from majority parties in the Pennsylvania State Senate and the Ohio General Assembly met to discuss PJM and the reliability of the mid-Atlantic power grid it manages, its infrastructure, and to provide an update on the future outlook of the region's power production.
Held at Pennsylvania's Capitol Building in Harrisburg, attendees from the Pennsylvania delegation included Sen. Gene Yaw (R-23), chair of the Senate Environmental Resources and Energy Committee, Sen. Ryan Aument (R-36), Majority Caucus Whip, Sen. Elder Vogel (R-47), chair of the Senate Agriculture and Rural Affairs Committee, Sen. Scott Hutchinson (R-21), chair of the Senate Finance Committee, and Sen. Pat Stefano (R-32), chair of the Senate Consumer Protection and Professional Licensure Committee.
Members of the Ohio General Assembly included Rep. Dick Stein (R-54), chair of the House Public Utilities Committee, Rep. Roy Klopfenstein (R-82), and Senator Bill Reineke (R-26).
Legislators from both states stressed the importance of collaboration and unification to address challenges related to PJM.
"There are few issues before our region's legislators as pressing as the need for a secure, reliable electric grid," Sen. Yaw said. "Any decision on energy policy will have a significant impact on our day-to-day lives. We had a very productive first meeting and I look forward to partnering with members of the Ohio legislature in the future to advance energy policies that are affordable, sustainable, and protect the viability of the power grid."
"Ohio and Pennsylvania share a common commitment to keeping the lights on at an affordable cost for our citizens. In addition, reliable competitive power is the lifeblood of economic growth in both our states," Rep. Stein said. "I look forward to working with Senator Yaw and our joint committees to bring more public awareness to this critical infrastructure issue. "
At a recent meeting of Yaw's committee, PJM officials testified, at the current course, PJM is not going to have sufficient power to meet the demands of consumers. The legislators agree this will likely result in increased prices, risks of blackouts, and restrictions on when and how we can use electricity.
"Residents of both Pennsylvania and Ohio depend on affordable and reliable energy to power their homes and businesses," said Sen. Ryan Aument. "But projections from PJM show that Pennsylvanians' and Ohioans' current energy use could be in jeopardy if we don't work together to swiftly implement responsible policies that promote a strong, reliable baseload power supply that generates the energy we need no matter the weather or time of day. I look forward to working with our counterparts in Ohio to ensure none of our residents suffer pricey electric bills or rolling blackouts."
PJM projects that 20% of its existing capacity will retire between now and 2030. During the meeting, legislators from both states agreed that implementation of short-sighted environmental policies like the multistate Regional Greenhouse Gas Initiative (RGGI), overregulation by state agencies, and reliance on renewable energy sources will only expedite the collapse of the already strained energy grid.
"This meeting was very informative and reinforced the notion that, at this time, solar fields and windmills are not going to meet our energy needs," Sen. Vogel said. "Extreme summer or winter weather could be catastrophic as our grids would either be overwhelmed or not be able to generate enough power – both resulting in power outages and potentially tragic results. Power plants fueled by nuclear, coal, or natural gas have remained consistent energy producers and should not be disregarded."
Rep. Stein told attendees he recently met with PJM Interconnect CEO Manu Asthana to discuss a letter sent to the company expressing concerns about the effect Illinois' Climate and Equitable Job Act (CEJA) will have on Ohio consumers. The Illinois CEJA mandates the closure of fossil fuel-fired electrical generation unit facilities. To offset the closures, PJM has identified upgrades to the transmission system, located mostly in Ohio, and will cost an estimated $2 billion.
"Reliable energy resources are essential to Ohio residents and businesses," Rep. Klopfenstein said. "I'm glad we are working with the Pennsylvania Legislature to address the energy generation and distribution issues that are coming our way."
Legislators from both states discussed the need to put forth good energy policy to keep costs affordable and implement procedures that are consistent and consumer friendly. In Pennsylvania, Yaw sighted proposed legislation to improve the permitting process for the infrastructure and transmission of natural gas required to sustain the electric grid and his bill to increase fines and penalties for those who vandalize or cause destruction to any part of a power grid.
"I'd like to thank Chairman Yaw for initiating this partnership with our Ohio neighbors," Sen. Hutchinson said. "By working together, we can help advance more commonsense energy strategies that maintain grid reliability while efficiently and safely using all the resources in our diverse energy portfolios."
At the conclusion of the meeting, the group collectively reinforced the importance of an open dialogue and a continued working relationship.
"Pennsylvania is a key energy exporter and any decisions we make will greatly impact our future and everyone supported by the PJM grid," Sen. Stefano said. "Collaboration is key, and together we are watching changes that other states have made to their energy portfolios when valuing certain energy sources over others. Grid reliability is paramount, and unfortunately, alternative energy sources are often unreliable. Moving away from fossil fuels while only considering renewable energy solutions will result in an unreliable distribution that could lead to grid failure, leaving each state vulnerable and our constituents underserved and facing increased costs."
"A secure, reliable, and efficient electrical grid is necessary for our economic and societal health. It is important that legislators understand how our grid operates and the challenges in keeping it running," Sen. Reineke said. "I look forward to continuing to collaborate with colleagues in Ohio and in other State Legislatures to craft sound energy policy."
For more state-related news and information, constituents can visit Senator Yaw's website at www.SenatorGeneYaw.com or follow him on Facebook and Twitter @SenatorGeneYaw.