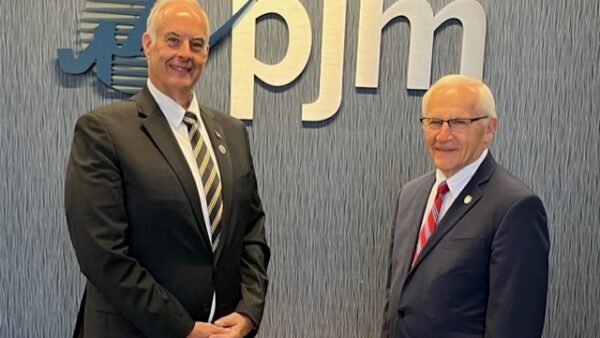 AUDUBON, PA – Pennsylvania State Sen. Gene Yaw (R-23), Chair of the Environmental Resources and Energy Committee and Ohio State Rep. Dick Stein (R-54), Chair of the Public Utilities Committee, were among the testifiers at this week's PJM Board of Managers Critical Issue Fast Path (CIFP) – Resource Adequacy Stage 4 meeting.
In February, PJM, the organization that manages the mid-Atlantic power grid consisting of 13 states and the District of Columbia, implemented their CIFP process. According to PJM, CIFP is an accelerated process used to address key capacity market areas that directly benefit grid reliability. Prior to this week's meeting, the Board indicated that they had been closely following the industry-wide discussion regarding the maintenance of reliability through the energy transition and that numerous data points suggested grid operators may face challenges in maintaining reliability during the transition.
During the meeting, resource adequacy proposals were presented and discussed with the PJM Board, followed by public comments and a Board meeting and vote.
"Sixty-five million consumers depend on affordable, reliable energy to power their homes, businesses, and day-to-day lives," Sen. Yaw said. "As legislators, it is our responsibility to put forth good policies that promote a diverse energy portfolio and a strong, dependable baseload power supply no matter the weather or time of day. Any decision the Board makes will greatly impact Pennsylvania, Ohio, and every state supported by the PJM grid and our continued engagement and collaboration in this process is critical."
"States like Ohio and our friends in Pennsylvania generate and use the largest percentage of PJM's output," Rep. Stein said. "As such, we must play a more active role in energy generation policies that affect our states. In my testimony, I reminded PJM that to improve grid reliability, we need to promote policies that generate dependable energy resources."
Earlier this summer, legislators from both states convened for a meeting at Pennsylvania's Capitol Building in Harrisburg to discuss the importance of collaboration to address challenges related to PJM and the reliability of the power grid. PJM projects that 20% of its existing capacity will retire between now and 2030. During the meeting, legislators from both states agreed that implementation of short-sighted environmental policies like the multi-state Regional Greenhouse Gas Initiative (RGGI), overregulation by state agencies, costs related to policymaking by neighboring states, and reliance on renewable energy sources will only add burden to an already fragile grid and increase the chance of a catastrophic failure.
Following this week's Board meeting, a filing with the Federal Energy Regulatory Commission is targeted for October 1. It was noted that this marked the first time legislators had been invited by PJM to present to its Board of Managers.
CONTACT:
Elizabeth Weitzel (Sen. Yaw)
717-787-3280
Kaitlyn Fillhart (Ohio House of Representatives)
614-644-1739