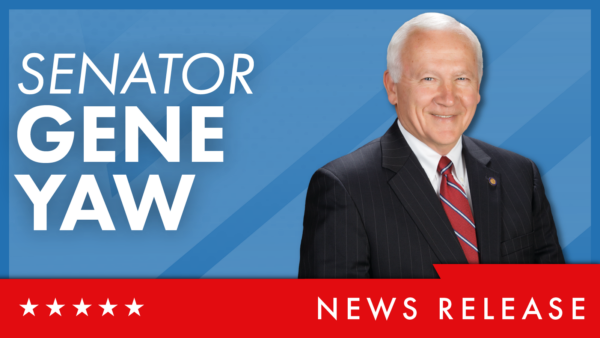 HARRISBURG – Sen. Gene Yaw (R-23), Chair of the Senate Environmental Resources and Energy Committee, was recently named to the City and State Pennsylvania 2023 Energy and Environment Power 100 list.
"I am honored to be named to the Energy and Environment Power 100," Sen. Yaw said. "As a legislator, I take very seriously my role in advancing measures that I believe will unleash Pennsylvania's energy potential while improving our environment and protecting it for future generations."
The Energy & Environment Power 100 highlights the most influential environmental professionals and advocates in Pennsylvania.
Senator Yaw was instrumental in creating legislation establishing the Marcellus Shale Impact Fee, now known as Act 13 of 2012. Since its inception, the impact fee has generated more than $2.5 billion in tax revenue to support county and local governments fund critical economic development and environmental projects. More recently, Yaw was the prime sponsor of Act 85 of 2019, legislation to permit the drilling of long lateral well bores, significantly reducing environmental impacts.
Senator Yaw championed the landmark Pennsylvania Clean Streams Fund to clean up rivers and streams damaged by decades of non-point source pollution. Enacted as part of the 2022-23 state budget, the fund also created the Agricultural Conservation Assistance Program (ACAP), designed to share costs to farmers for farm management practices that reduce sediment in waterways, keeping the nutrients out of waterways, and on the farm to build soil health.
Additionally, Yaw is the prime sponsor of legislation restricting the use of firefighting foam containing added per-and polyfluoroalkyl substances (PFAS), legislation to give counties and municipalities greater flexibility in addressing obstructions and flood-related hazards in our local waterways, legislation to increase fines and penalties against those who intentionally vandalize or attack critical infrastructure in Pennsylvania, and legislation establishing the legal and regulatory framework for potential carbon dioxide capture, utilization, and sequestration (CCUS) in Pennsylvania.
Senator Yaw continues his ongoing work related to responsible energy development and protecting the reliability of the PJM electric grid. Earlier this summer, Yaw, along with legislators from Pennsylvania and Ohio, convened for a meeting at Pennsylvania's Capitol Building in Harrisburg to discuss the importance of collaboration to address challenges related to PJM. Following that meeting, Yaw and Ohio Rep. Dick Stein (R-54) testified before the PJM Board of Managers, a first for legislators of any state in PJM's market.
"I am proud of the work we've done to better Pennsylvania's 85,000 miles of waterways, generate hundreds of millions of dollars annually for infrastructure, community and environmental programs, help local officials respond more quickly and efficiently to emerging problems, and ensure that no matter the time of day or weather, the lights come on and Pennsylvania consumers have access to the affordable, reliable energy they depend on."
Senator Yaw serves on a number of related boards and commissions including as Chairman of the Center for Rural Pennsylvania, a member of the Chesapeake Bay Commission, a member of the Environmental Quality Board, a member of the Pennsylvania Aggregate Advisory Board and a member of the Pennsylvania Energy Development Authority.
The honorees profiled in the Energy and Environment Power 100 list are researched by City and State staff and includes elected officials, business executives, nonprofit leaders, advocates, and others.
For more state-related news and information, constituents can visit Senator Yaw's website at www.SenatorGeneYaw.com or follow him on Facebook and Twitter @SenatorGeneYaw.
CONTACT:
Elizabeth Weitzel
717-787-3280