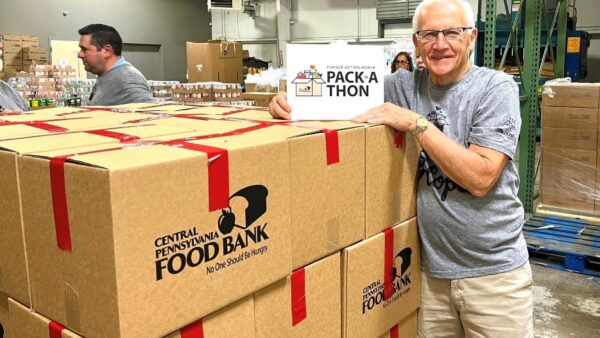 HARRISBURG –Sen. Gene Yaw (R-23) recently visited the Central Pennsylvania Food Bank in Williamsport to recognize 'Hunger Action Month' by volunteering for the Food Bank's Pack-A-Thon.
In September and all year long, the Food Bank joins others across the state and Feeding America to take action in fighting hunger across our communities. Yaw and his staff assisted in packing nearly 300 boxes of non-perishable food items for families in need.
"The work of the Central Pennsylvania Food bank is critically important to families across Bradford, Lycoming, Sullivan, Tioga and Union counties," Sen. Yaw said. "Hunger Action Month is our opportunity to join a movement that has a real and lasting impact to feed more Pennsylvanians than ever before."
"We are thankful to Senator Yaw and his team for their long-time partnership in our mission, and for joining our Pack-A-Thon this week to learn more about the current high level of food insecurity and to pack hundreds of nutritious boxes of food for our neighbors facing hunger," said Joe Arthur, CEO, Central Pennsylvania Food Bank. "Hunger Action Month is a time to recognize the progress we've made in ending hunger and the work we have left to do. We encourage members of the public to Donate, Participate, Educate, and Advocate to help us ensure that no one in central Pennsylvania is hungry."
Local food insecurity rates are higher than the statewide average of about 10.7%, with Lycoming County facing a food insecurity rate of 12.1%. There are around 14,000 food insecure individuals in Lycoming County, including 4,190 children. Children face an even higher food insecurity rate of 18.0%, meaning nearly one-in-five children are unsure of where their next meal will come from.
Yaw encouraged constituents to learn more about the Central Pennsylvania Food Bank, volunteer opportunities and ways to give back by visiting www.centralpafoodbank.org/ways-to-give-2/.
For more state-related news and information, constituents can visit Senator Yaw's website at www.SenatorGeneYaw.com or follow him on Facebook and Twitter @SenatorGeneYaw.
CONTACT:
Elizabeth Weitzel
717-787-3280