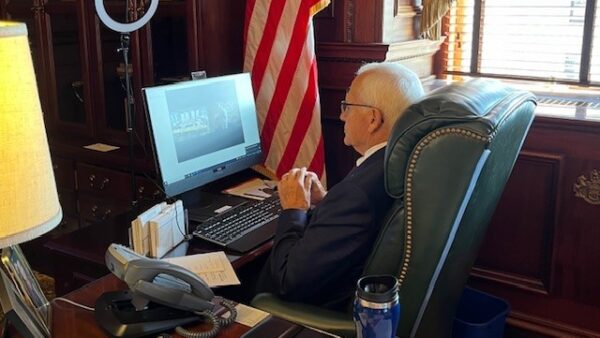 HARRISBURG – State Sen. Gene Yaw (R-23) recently addressed the Pennsylvania Chemical Industry Council (PCIC) during their quarterly Board of Directors meeting in Harrisburg. Yaw, chairman of the Senate Environmental Resources and Energy Committee, provided the Board with a legislative update and discussed his fall 2023 committee priorities.
"It was a pleasure to join the Pennsylvania Chemical Industry Council at their quarterly board meeting this week," Sen. Yaw said. "Pennsylvania's chemical industry is an important piece of the puzzle in crafting energy and environmental policy and PCIC members play a key role in representing that industry. I am thankful to the council for including me in their discussion."
Yaw told council members his priorities include his ongoing work related to responsible energy development and protecting the reliability of Pennsylvania's electric grid. He also discussed legislation he sponsored to establish the Independent Energy Office in Pennsylvania, legislation establishing the legal and regulatory framework for potential carbon dioxide capture, utilization, and sequestration (CCUS) in Pennsylvania, and legislation restricting the use of firefighting foams containing polyfluoroalkyl substances (PFAS).
"We appreciate Senator Yaw joining us for a productive discussion about our industry's role in advancing environmental solutions while making the products we all rely on for everyday life. He continues to champion smart policies that advance innovation, sustainability, and security while empowering manufacturers to grow and invest in Pennsylvania's economy and local communities," said Steve Kratz, President, Pennsylvania Chemical Industry Council.
The Pennsylvania Chemical Industry Council is the advocacy organization acting on behalf of the state's chemical industry. PCIC has been a presence in Harrisburg and across the state for more than 30 years and is managed by Bravo Group.
For more state-related news and information, constituents can visit Senator Yaw's website at www.SenatorGeneYaw.com or follow him on Facebook and Twitter @SenatorGeneYaw.
CONTACT:
Elizabeth Weitzel
717-787-3280