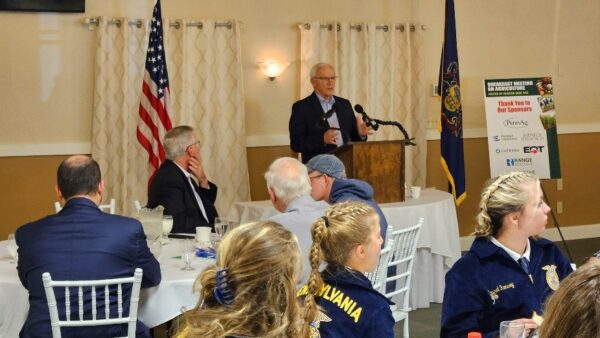 HARRISBURG, PA – State Sen. Gene Yaw (R-23) hosted his annual "Breakfast Meeting on Agriculture" this week with nearly 100 participants representing agriculture and agribusiness in Lycoming and Union Counties.
Held at the Silver Moon Banquet Hall, attendees consisting of farmers, agribusiness professionals, 4-H members, FFA students from Mifflinburg, Montoursville, and Selinsgrove, dairy royalty, teachers, and elected officials heard from Yaw, as well as featured speaker Russell Redding, Secretary of the Pennsylvania Department of Agriculture.
"Each year, the discussion is intended to create a friendly dialogue and exchange of ideas on important agricultural and environmental topics impacting our region," Sen. Yaw said. "The meeting is also designed to listen to concerns and answer questions. I was glad Secretary Redding was able to join us this year and highlight many important issues facing agriculture."
"Senator Yaw has been a longtime champion of farmers, and state funding for conservation measures that are critical to clean water and healthy soil for our future," Agriculture Secretary Russell Redding said. "I appreciate his partnership over the years, and I am pleased to join Sen. Yaw to represent the Shapiro Administration in addressing questions and concerns that are close to home in this region and across Pennsylvania."
Redding was first nominated by former Governor Ed Rendell to head the department. He was most recently re-confirmed on May 10, 2023.
The day's discussion also touched on several legislative proposals pending before the state Senate, which focus on water quality, stream maintenance, and environmental improvements.
For more state-related news and information, constituents can visit Senator Yaw's website at www.SenatorGeneYaw.com or follow him on Facebook and Twitter @SenatorGeneYaw.
CONTACT:
Elizabeth Weitzel
717-787-3280