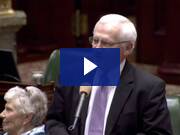 HARRISBURG – A bipartisan resolution to study the demand for natural gas service by Pennsylvanians was unanimously approved by the full state Senate, according to Senator Gene Yaw (R-23).
Senate Resolution 29, sponsored by Yaw, authorizes and directs the Center for Rural Pennsylvania, a bi-partisan, bi-cameral legislative research agency of the General Assembly, to study the demand for residential, commercial and industrial natural gas service in the state by collecting and analyzing information on the:
estimated demand for natural gas service in un-served and under-served areas of the Commonwealth;
estimated price consumers are willing to pay for access or conversion to natural gas service;
regional differences in consumer demand and willingness to pay for natural gas service; and
relevant economic information on the costs and benefits to expand natural gas distribution infrastructure.
"As Chairman of the Center for Rural Pennsylvania, we have convened several discussions on rural residential and commercial gas distribution," Yaw said. It is clear, we have an abundant natural resource beneath us, which can be used to help consumers lower their energy heating costs, improve consumer satisfaction, provide for increased economic development opportunities, and create jobs in the Commonwealth of Pennsylvania," Yaw added. "I look forward to reviewing the Center's findings in the coming months."
Yaw added that his office has received numerous inquiries from his constituents and from other legislator's offices whose constituents want to be able to benefit from this less expensive form of energy.
The Center would be responsible to report its findings, plans, and recommendations to the General Assembly no later than August 1, 2013.
AUDIO
CONTACT:
Adam Pankake
717-787-3280