HARRISBURG – State Senator Gene Yaw (R-23) today recognized Mike Lovegreen, District Manager for the Bradford County Conservation District, on being awarded the Chesapeake Bay Foundation's Lifetime Achievement Award.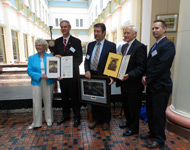 During a special ceremony held at the State Capitol, Yaw joined State Representatives Tina Pickett (R-110) and Matthew Baker (R-68) to honor Lovegreen with congratulatory citations sponsored by the Senate and House of Representatives for his years of service, leadership and contributions to improving Bradford County and the Chesapeake Bay.
"The Senate takes great pleasure in recognizing those citizens who have distinguished themselves in the conservation of the natural resources of this Commonwealth," Yaw said.  "Mike has demonstrated a long-standing commitment to our region.  Under his leadership, he and his staff have worked closely with the Chesapeake Bay Foundation to implement best management practices that integrate and deliver positive results to our ground and waterways.  I applaud Mike on his dedication to our region over these past 33 years and congratulate him on receiving this prestigious award."
The Chesapeake Bay Foundation's Lifetime Achievement Award is presented annually to acknowledge, recognize and encourage environmental stewardship.
Contact: Rita Zielonis
(717) 787-3280