HARRISBURG – State Senator Gene Yaw (R-23) and Representative Fred Keller (R-85) stopped by the Herr Memorial Library in Mifflinburg on Thursday evening for the kick-off of the library's "Love Your Library" Capital Campaign.
To position the library for continued growth, the $700,000 capital campaign will assist with the construction and furnishing of a two-story 2,665 square foot addition. The new addition will feature an all-purpose community room, renovated basement for a teen space, an elevator for easy access to all levels, a new handicapped entrance, and other features. The increase in space provides opportunity for additional programming and more community involvement.
Last year, the library was the recipient of a $250,000 state Keystone Recreation, Park and Conservation Fund library facilities grant, as well as a $150,000 CDBG grant endorsed by the Union County Commissioners.
"The Library staff, Board of Directors and Campaign Committee have set a clear vision toward enhancing education, literacy and workforce development opportunities for people of every age throughout Union County," Yaw said.  "Mifflinburg and the surrounding communities are incredibly fortunate to have hardworking, dedicated individuals working to grow the Library and the many services and programs it offers. Securing public dollars is never an easy task.  I commend them on making a positive difference on the lives of this and future generations."
"The Herr Memorial Library is a hub in the Mifflinburg community, whose community support, educational programming, and rich history, truly embodies what it means to be not only a community library but a keystone in the community," said Keller. "The vision, leadership and direction of Kelly Walter, the members of the Library Board, and all library supporters, are what preserve the Herr Memorial Library as a community asset into the 21st Century."
While at the Library, Sen. Yaw and Rep. Keller toured spaces to be renovated, had an opportunity to paint in the Discovery Room, and enjoyed discussion with administration and staff members.
More information about state issues is available at Senator Yaw's website, www.SenatorGeneYaw.com and Rep. Keller's website, www.RepFredKeller.com.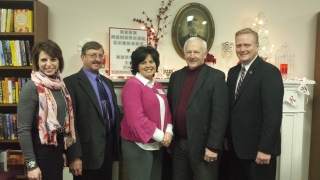 (Pictured L to R:  Joanne Troutman, Member, Herr Memorial Library Campaign Committee; Preston Boop, Union County Commissioner; Kelly Walter, Library Director; State Senator Gene Yaw; State Representative Fred Keller)
CONTACT:
Nick Troutman (Sen. Yaw), (717) 787-3280
Benjamin Ranck (Rep. Keller), (570) 966-0052