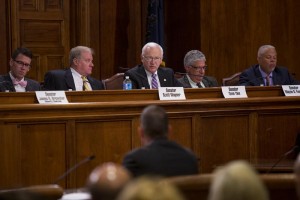 HARRISBURG – The state Senate today rejected the nomination of Marcus Brown as Commissioner of the Pennsylvania State Police (PSP), the state's top law enforcement position, according to Senator Gene Yaw (R-23).
Brown's nomination was voted down by a vote of 26/22.
"From the beginning, Mr. Brown's nomination has been met with skepticism by retired law enforcement officers, as well as the Pennsylvania State Troopers Association.  During the Senate Law and Justice Committee hearing on June 3, I questioned Mr. Brown's numerous unilateral actions, which, in my opinion, bent the law in his favor.  I feel my negative vote today is right for the people I represent.  The PSP is a leading law enforcement agency in the nation.  In keeping with the tradition of the agency, we need a leader who is above reproach."
Yaw added that while Brown has an extensive resume, he is not the right fit to head the organization at this time.
Brown becomes the first nominee rejected under the Wolf Administration.
Yaw serves as a member of the Senate Judiciary Committee and the Senate Law and Justice Committee.
For more information, contact:
Rita Zielonis, Chief of Staff
(717) 787-3280