HARRISBURG – A legislative proposal championed by the Chesapeake Bay Foundation's (CBF) Pennsylvania Student Leadership Council and Lycoming College's Clean Water Institute was overwhelmingly approved today by the House of Representatives, according to Sen. Gene Yaw (R-23), prime sponsor of the measure.
The House approved Senate Bill 9, 191-6, which designates the Eastern Hellbender as the first official "State Amphibian" of Pennsylvania.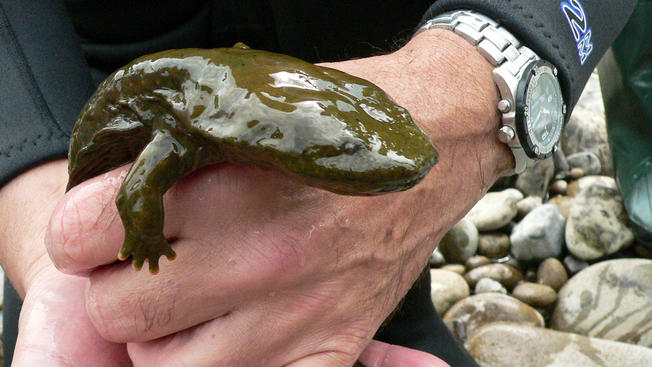 An eastern hellbender held by a researcher. / Photo provided by Peter Petokas, a research associate at the Clean Water Institute of Lycoming College's biology department.
CBF's Pennsylvania Student Leadership Council, consisting of high school students, invested many hours studying the Eastern Hellbender and the problems the amphibian is facing within the state. With assistance from Lycoming College in Williamsport, the students drafted the legislation during the 2017-2018 Legislative Session, meeting with elected officials to outline why they felt it should be the state amphibian. Yaw agreed to reintroduce the measure in the new legislative session.
"Because the Eastern Hellbender exemplifies what is good about Pennsylvania's waterways, it is the perfect selection to become the official State Amphibian," Senator Yaw said. "It is an excellent natural indicator of water quality, so, in effect, if you have hellbenders in your water the water quality most likely is very good. The hellbender will be a visible symbol of Pennsylvania's commitment to clean water."
Peter Petokas, Ph.D., Amphibian Conservation Biologist at Lycoming College and faculty member of the College's Clean Water Institute, applauded the action. "Passage of Senate Bill 9 takes the Eastern Hellbender one step closer to the status of official amphibian of the State of Pennsylvania, a designation that it uniquely deserves and which will help promote conservation programs that protect and sustain the unique amphibian resources of the commonwealth."
"Even in times of budget crisis and pensions and everything else impacting Pennsylvania, this is something that showed the student sponsors of the bill that their elected officials do, indeed, listen to them. They had a great idea and I was privileged to present their idea to the Senate on their behalf," Sen. Yaw added.
The bill is expected to be signed by Governor Wolf next week, where the Eastern Hellbender will join the ranks of the White-Tail Deer as the State Animal, Ruffed Grouse as the State Bird, the Great Dane as the State Dog and the Brook Trout as the State Fish.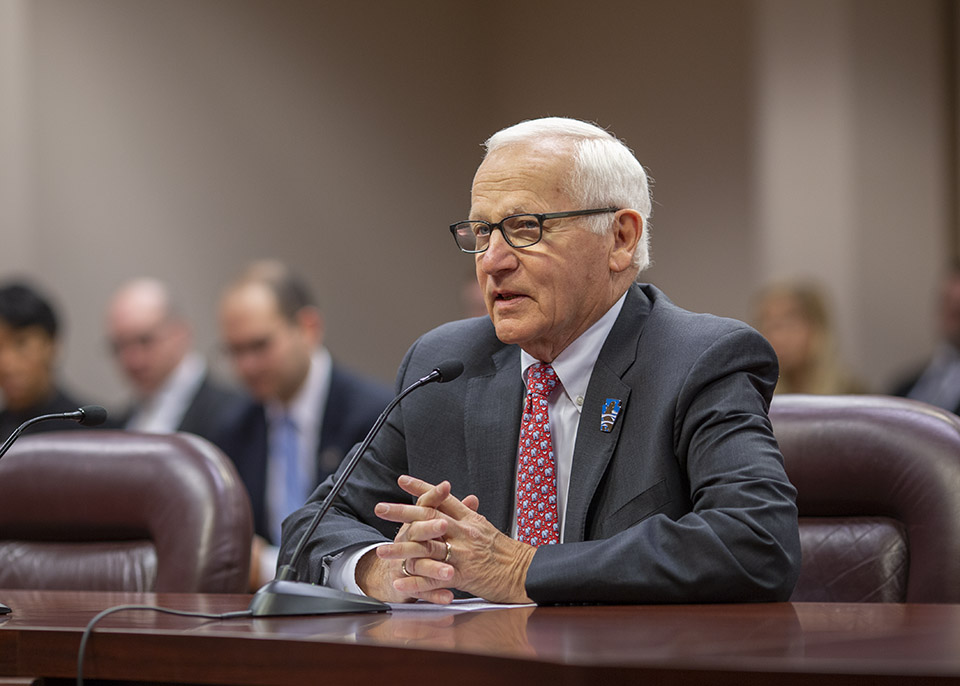 Senator Gene Yaw, sponsor of Senate Bill 9, offers comments during a February meeting of the Senate State Government Committee in Harrisburg.