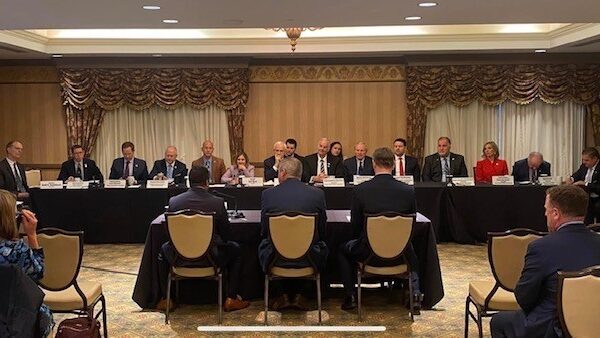 HARRISBURG – Members of the Pennsylvania Senate and the Ohio General Assembly convened in Pittsburgh last week for a joint public hearing on interstate relationships within the PJM grid, according to Pennsylvania Senate Environmental Resources and Energy Committee chairman, Sen. Gene Yaw (R-23).
The hearing, the first of its kind held by respective committees from the two states, included testimony from PJM, the organization that manages the mid-Atlantic power grid, the Pennsylvania Public Utilities Commission (PUC), and energy industry experts. The panels highlighted significant concerns regarding the resource adequacy projected for the next three to five years. They emphasized how the PJM electric system is interconnected, and actions taken by any one state can have resounding and immediate impacts on neighboring states. These challenges are amplified when generation is retired, and new generation cannot keep pace with what is being retired.
"Pennsylvania and Ohio are key energy producers and this unprecedented public hearing between the two states is a testament to the critical nature of this issue," Sen. Yaw said. "Any decisions we make will greatly impact the future of every other state supported by the PJM grid and we must act now to put forth commonsense energy policy. Collaboration is vital and I am grateful to our neighbors in Ohio for their continued partnership."
At the hearing, Ohio Rep. Dick Stein (R-54), chairman of the Ohio House of Representatives Public Utilities Committee, discussed concerns about the effect Illinois' Climate and Equitable Job Act (CEJA) will have on Ohio consumers. The Illinois CEJA mandates the closure of fossil fuel-fired electrical generation unit facilities. To offset the closures, PJM has identified upgrades to the transmission system, located mostly in Ohio, and will cost an estimated $2 billion.
"As two of PJM's largest generators and consumers of energy, Ohio and Pennsylvania recognize the urgent need to band together to share our energy concerns today and in critical years ahead as we work towards building a more sustainable grid," Rep. Stein said. "My hope is that this first-ever joint energy committee hearing will serve as a catalyst for how we move forward with common sense solutions to support our region's growing energy concerns."
The industry representatives agreed that as two of the greatest producers of power in the PJM footprint, both Pennsylvania and Ohio will play a key role in ensuring continued reliability during energy transition.
"It is important that the voices and concerns of individual states are heard in the regional and national conversations about grid reliability and the ongoing energy transition," Pennsylvania Public Utility Commission Chairman Stephen DeFrank said. "The PUC is committed to ensuring safe and reliable electric service for Pennsylvania households and businesses and I thank Senator Yaw for organizing this hearing and inviting the Commission to provide input so we can continue advancing this important energy policy discussion."
"This hearing was a significant display of the collaboration between Pennsylvania and Ohio," Glen Thomas, President of GT Power Group, said. "I am pleased to see the two states proactively work together to advance commonsense strategies that promote reliability and affordability through competitive electricity markets and a diverse energy portfolio."
Following the hearing, Yaw said the common message was that to successfully address the complex reliability challenges emerging as the grid is transformed, the regional entities, and state and federal policymakers will need continued collaboration, coordination, and thoughtful action.
"Our focus is keeping the lights on and doing it cost-effectively for customers through the energy transition," Asim Z. Haque, PJM Interconnection Sr. Vice President of State & Member Services said. "PJM and our stakeholders have taken a number of actions in our planning and markets to prepare for the grid of the future, and collaboration with our states will continue to be essential."
"Ohio and Pennsylvania face the same challenges with grid reliability, which could lead to drastic effects on our families and businesses." Sen. Bill Reineke (R-26), chair of the Ohio Senate Energy and Public Utilities Committee, said. "We need reliable, efficient, and affordable energy sources so our constituents can keep their lights on without breaking their budgets. I look forward to continuing this critical dialogue and collaborative work with our neighbors in Pennsylvania."
The hearing was the first of two set to take place between the legislatures. In July, committee members of majority parties in both states convened at Pennsylvania's Capitol Building in Harrisburg to discuss PJM and the reliability of the mid-Atlantic power grid it manages, its infrastructure, and to provide an update on the future outlook of the region's power production. The committee chairmen were also among testifiers at an August meeting of PJM's Board of Managers.
For more state-related news and information, constituents can visit Senator Yaw's website at www.SenatorGeneYaw.com or follow him on Facebook and Twitter @SenatorGeneYaw.
CONTACT:
Elizabeth Weitzel
717-787-3280